Wrapped Up In Books, The A.V. Club's monthly book club, has chosen its selections for the months of July and August. Let's waste no time getting to them.
July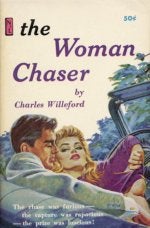 Beginning Monday July 13th, we'll present a week-long discussion of The Woman Chaser by Charles Willeford. That's my selection and I'm guessing that it may not ring a bell for a lot of readers. I'll save the details for when we get to the book, but here's a thumbnail sketch: Willeford wrote a highly individual sort of crime fiction from the '50s through the '80s. He's probably best known for writing the 1984 novel Miami Blues, the first of several featuring a detective named Hoke Moseley. It was turned into a movie starring Alec Baldwin and Fred Ward in 1990, two years after Willeford's death. (Scott Tobias made it a New Cult Canon selection a few months back.)
Willeford released The Woman Chaser—itself turned into a pretty neat film in 1999—in 1960. Without spoiling anything, it's the tale of a used car salesman who decides to become a movie director. Though a lot of Willeford's books have fallen out of print, it's currently available as a paperback and shouldn't be too hard to find at the library. Or, for you 21st century types, it's also available as a free eBook in several different forms from Munseys.com. Finally, let me leave you with a Willeford quote from a posthumous profile in The Atlantic: "Just tell the truth, and they'll accuse you of writing black humor."
August
Then, starting August 17th, we'll be talking about John Crowley's 1981 novel Little, Big, a sprawling fantasy novel chosen by A.V. Club readers when we asked for future picks. We'll be letting readers choose every fourth book, so keep those suggestions coming in.