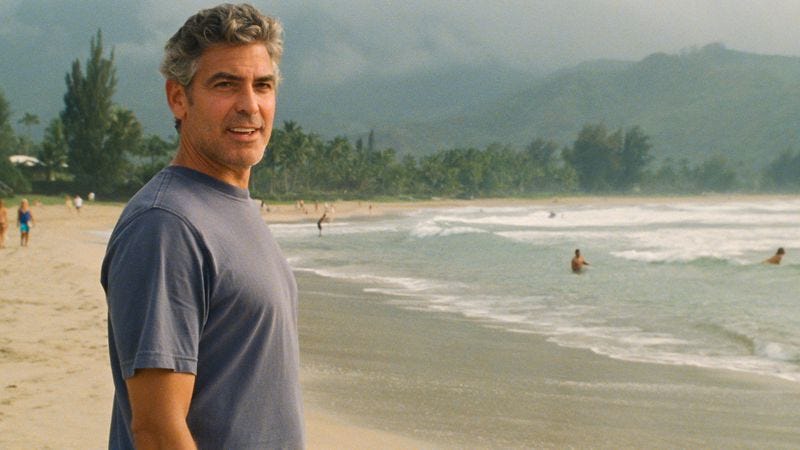 Proving again that the passion of teenage girls—and the teenage girl in everyone— is a capitalist tsunami like no other, The Twilight Saga: Breaking Dawn Part 1 laid waste to all box office contenders in its first weekend, taking $139.5 million in three days. That was just a few million short of the series' record-holder, New Moon, but even factoring in a budget ($110 million) that's ballooned from the franchise's frugal beginnings, it's still a very good haul. Box Office Mojo reports that the take was unusually front-loaded—over half from Thursday midnight and Friday screenings—so expect a freefall next weekend, when it faces a wealth of Thanksgiving options. The news was considerably less pleasant for Happy Feet Two, a would-be animated franchise that clearly wasn't as beloved as Warner Brothers expected; at $22 million, it made barely over half what the first Happy Feet made five years ago.
But the big story of the weekend may be Alexander Payne's The Descendants, which cracked the Top 10 despite only opening on 29 screens. Its $42,140 per screen average bested Breaking Dawn by nearly $8,000, and would seem to bolster its current standing as the presumptive favorite of this year's Oscar race. To say that other limited releases fared less well would be an understatement: The Ellen Barkin-led Another Happy Day scored $9,200 on two screens and Joshua Leonard's adaptation of T.C. Boyle's The Lie scored $3,000 on one screen, barely enough for first month's rent plus a deposit.
For more detailed numbers, visit Box Office Mojo and Indiewire.