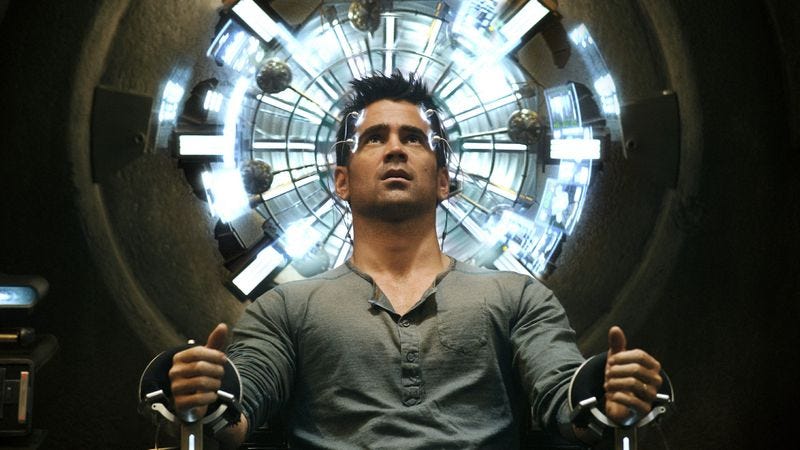 One of the advantages of opening a big movie like The Dark Knight Rises late in the summer is that it has no challengers—no Avengers to siphon away the superhero dollar and nothing opening but misbegotten projects like The Watch and Total Recall, which don't have the muscle to open earlier in the season. Despite replacing Arnold Schwarzenegger with a roughly equivalent box-office force in Colin Farrell, Total Recall didn't put up much of a fight against Batman, less Bane than Calendar Man. At $26 million, it was a full $10 million behind The Dark Knight Rises and over $100 million away from its extravagant budget, which was mostly used to pay down Farrell's student loans. Also opening well short of expectations was Diary Of A Wimpy Kid: Dog Days, the third in a mildly entertaining comedy series and by far the weakest opener, taking $14.7 million where earlier entries made $22 and $23 million. The good news for Fox is that it only cost $22 million, so more entries may be on the way.
In limited release, the Rashida Jones-Andy Samberg rom-com Celeste And Jesse Forever enjoyed the week's largest per screen average at $28,000 per screen on four screens. It's too early to know if the film can cross over to the multiplex, but it's off to a solid start. Everything else was just a big pile of fail: 360, the latest everything-is-connected movie, directed by Fernando Meirelles (City Of God) and starring a bunch of big-time actors, collected only $6,300 per screen on two screens, and that was still well over 10 times better than the latest Broken Lizard comedy The Babymakers ($527 per screen on 11 screens) and the not-screened-for-critics Christian Slater vehicle Soldiers Of Fortune ($446 per screen on 50 screens). Both will make explosive profits on VHS.
For more detailed numbers, visit Box Office Mojo.