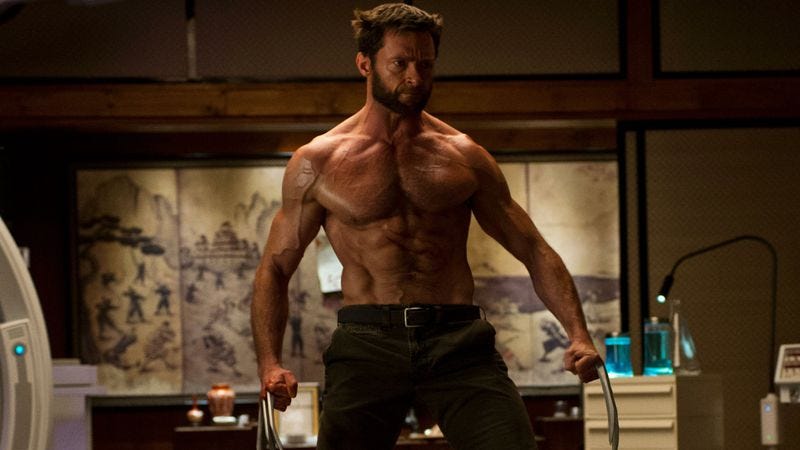 Confirming that summer is no longer a time for fun, Americans gave The Wolverine a somewhat-underwhelming $55 million opening weekend—just the latest in a long line of big tentpoles whose tents are filled with listless, sickly animals who look like they could have mange, maybe. Hugh Jackman's latest turn as the avenging thrombosed vein took the No. 1 spot but, as with nearly every would-be blockbuster of the past couple of months, it's with some qualifiers. It earned $30 million less than its predecessor, X-Men Origins: Wolverine, despite getting much better reviews and not having Liev Schreiber's off-putting muttonchops. And if you take away the 3-D premium inflation, it's the lowest North American opening yet for the X-Men franchise.
Still, unlike some of its fellow "event" films this season, Wolverine had a strong global take of $141.1 million—the best international debut for an X-Men movie yet, and another reminder that America no longer dictates Hollywood's success. As our nation wallows in its summer of discontent, rejecting the loud and flashy in favor of staging Clifford Odets plays in our backyards and moaning softly to ourselves, all our explosions are being eagerly outsourced to Asia.
In second place, The Conjuring fell by 47 percent—which is actually an impressive hold for a horror film—while the rest of the top five was filled in by Despicable Me 2, Turbo, Grown Ups 2, and Red 2, each one spot down from where they were last week. Incidentally, Grown Ups 2 has now become the 14th Adam Sandler movie to make more than $100 million, an accomplishment Sandler is no doubt celebrating by just kicking back on the beach with some friends. The film of that should make $100 million this time next year, and on and on, until the angry sea finally rises to take him.
Elsewhere, hope seems to be running out that Pacific Rim will pick up a second wind. It dropped to seventh place and will be lucky to close over $100 million—or, about as much as Adam Sandler makes by putting on his shorts. And R.I.P.D. continued its embarrassing freefall all the way to ninth place in its second week, taking in a dismal $24.4 million so far. (Still, that doesn't mean we're not confident in our own pitch on the Men In Black formula, where instead of dead cops, they're regular, alive cops. And instead of fighting aliens or zombies, they catch normal human criminals. And actually, instead of catching criminals, they mostly just issue a lot of traffic citations.)
All in all, the big winners this weekend were the small ones: Fruitvale Station made a big jump on its first weekend in wide release, landing at tenth place with $4.7 million. Ditto Blue Jasmine, which earned just over $100,000 per its six theaters, besting Midnight In Paris to become the all-time best debut for a Woody Allen film. (No doubt somewhere a Hard Rock Café waitress is listening very patiently while Andrew Dice Clay takes credit for this.) But not so much for The To Do List: With just $1.5 million in 591 theaters, the raunchy comedy opened much smaller than expected—especially given that Aubrey Plaza was seemingly everywhere last week, talking about sex. Somehow not even that's enough to stoke America's interest during this super serious summer.
For more detailed numbers, visit Box Office Mojo.