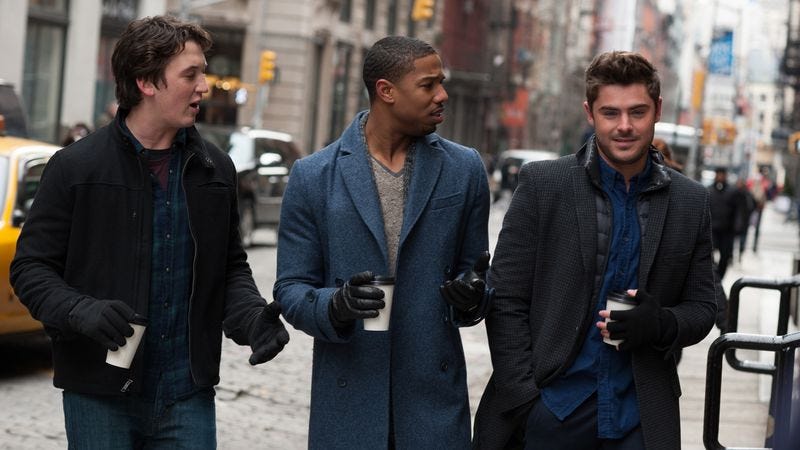 On a Super Bowl weekend that featured a bunch of bros engaging in embarrassing physical comedy and a never-ending hostage situation, most audiences chose to see the Denver Broncos endure all that, rather than take in That Awkward Moment or Labor Day. The movie in which Zac Efron, Michael B. Jordan, and Miles Teller realize they're experiencing #ThatAwkwardMoment when #RelationshipzGetComplic8d and then #BrosTotesUndergoASearchingSelfInventory opened in third place with $9 million, making it "the lowest nationwide debut yet for a Zac Efron movie," according to Box Office Mojo—even that one where he plays baseball with his ghost bro.
At seventh place with $5.4 million, Jason Reitman's Labor Day barely eked out the debuts of his Young Adult and Thank You For Smoking, even though it opened on more than twice as many screens. Its primarily older female audience may have rushed to the theaters, excited to see their fantasies of being kidnapped by a brutish yet sensitive escaped prisoner, who would then sensuously do their chores and feed them chili, realized at last. But without a similar form of Sexy Stockholm Syndrome slowly overtaking the nation, Labor Day seems destined to fade quickly.
Not so for Ride Along, which held onto its first-place spot for the third straight week, or its fellow Top 10 mainstays like Frozen—boosted by the release of a special "sing-along" version—and American Hustle, which is already officially David O. Russell's highest-grossing film ever, even before the release of its sing-along version. Meanwhile, the only two indies on a weekend devoted to mainstream consumption were the dirt-bike documentary 12 O'Clock Boys ($51,500 in 21 theaters) and Penn & Teller's art-history magic act Tim's Vermeer ($57,900 in four theaters), which had their own minor victories, like finally learning how to commit or getting your son a handsome abductor dad.
For more detailed numbers, visit Box Office Mojo.