The screenwriter William Goldman once said that in Hollywood, "Nobody knows anything." After reports that Borat: Cultural Learnings Of America For Make Benefit Glorious Nation Of Kazakhstan wasn't tracking nearly as well as its competition, Fox cut in half the number of screens for opening day, professional prognosticators anticipated a finish well behind The Santa Clause 3 and Flushed Away, and pieces were already being written about how Snakes On A Plane-like Internet phenomena don't translate to real world dollars. Consider this chart from Movie City News: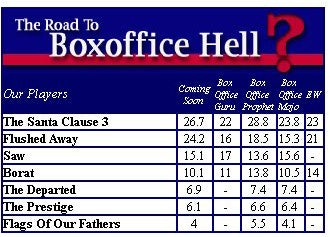 Clearly, nobody knows anything. On a little over 800 screens, less than 1/4 of the week's other wide releases, Borat won the weekend with $26.4 million, thanks to a whopping $31, 500 per screen average. That average would have fallen had Fox gone through with its original plan to release it on twice as many screens, but the studio unquestionably erred by underestimating the demand for this movie. Borat's success takes some of the sting out of the grim reality that people are still showing up in force for Tim Allen comedies, as The Santa Clause 3: Santa Claus Is Your Parents brought in $20 million for second place. Just behind it was Aardman's reasonably acclaimed animated movie Flushed Away at $19.1 million. In more cheerful news, The Departed cleared the magical $100 million mark and Pedro Almodóvar's Volver opened strong in limited release, with a $40,000 per screen average.
For a detailed rundown, visit Box Office Mojo.