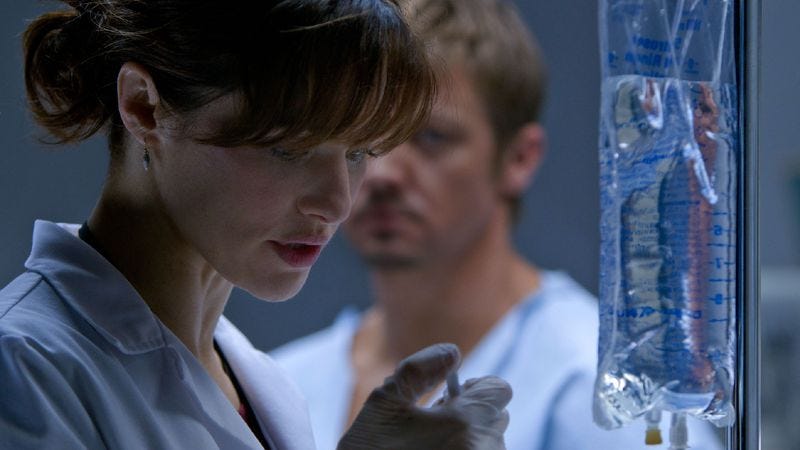 How much did losing Matt Damon and Paul Greengrass hurt the Bourne franchise? The last one, The Bourne Ultimatum, made $69.3 million in its opening weekend and the one before that, The Bourne Supremacy, made $52.5 million. The Bourne Legacy, the continuation of the series under Jeremy Renner and longtime Bourne scriptwriter Tony Gilroy, collected $40.3 million over the weekend, enough to secure a #1 spot but a precipitous drop from previous entries. It's a decent number—and far higher than $4.6 million earned the relatively obscure and completely unrelated 1989 Denzel Washington vehicle The Mighty Quinn—but mediocre notices suggest tepid word-of-mouth and the old-school action of Expendables 2 may take a bite in Week Two. The Will Ferrell-Zach Galifianakis comedy The Campaign also had a "solid" debut with a but, opening with $27.4 million for second, but falling a little short of Ferrell's usual standard for mainstream comedies, thought the film's political content makes it a tougher sell than, say, Talledega Nights. The counter-programmer Hope Springs brought in enough of an older audience to collect $15.6 million over the weekend and $20.1 million since Wednesday—not a spectacular number, but its audience skews older and older viewers tend to be more stable customers over the long haul. Nobody over 50 was rushing out to see Hope Springs—they'll see it when they're good and ready.
Nothing too notable in limited release. Julie Delpy's 2 Days In New York did sequel business, bringing in $13,500 per screen on two screens. It's hard to say how Delpy's Woody Allen-esque relationship movies will fare once Jeremy Renner takes over the franchise.
For more detailed numbers, visit Box Office Mojo.