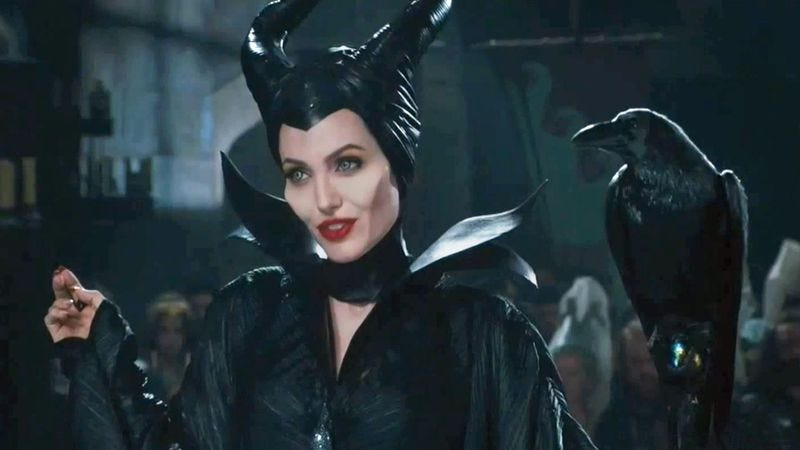 Webster's Dictionary defines "maleficence" as "the state or condition of being maleficent," and this weekend saw Maleficent more than live up to that lofty distinction by earning $70 million domestically. Disney's dark reimagining of Sleeping Beauty not only landed in first place by a wide margin, it also opened higher than 2012's Snow White And The Huntsman, guaranteeing that dark reimaginings of fairy tales will still continue to be a genre, so long as there are fantasy characters whose motivations have not yet been given the unflinching psychological grounding demanded by today's damaged kids. And with another $100 million from foreign markets, Maleficent is now Angelina Jolie's biggest opening ever, confirming audiences were just waiting to see her in a role that captured Jolie's essence as someone who's always plotting to take away your kids.
Although X-Men: Days Of Future Past dropped a steep 64 percent in second place, it's still already earned $162.1 million in the U.S. and more than $500 million worldwide. It's the first X-Men movie to ever do so, and all it took was putting all the X-Men movies into one movie, then adding more X-Men.
It certainly faced no competition from A Million Ways To Die In The West, which added "debut in third place with $17 million despite a relentless marketing campaign" to its titular list of tragicomic death scenarios. (You could probably also add dismal reviews, the modern audience's repeatedly demonstrated disinterest in Westerns, having Seth MacFarlane in a leading role, and that one trailer where even MacFarlane meets his own cutaway Back To The Future gag with an "Oh" of mirthless recognition.) Its failure to generate less than a third the take of Ted will send MacFarlane slinking back to overseeing just his several successful television shows and working on that hit film's sequel.
In limited release, Kelly Reichardt's Night Moves—in which Jesse Eisenberg is just tryin' to lose those awkward teenage blues by becoming an environmental terrorist—opened in two theaters with $24,100 And opening in just one theater apiece, the Afghanistan war documentary Korengal ($15,100) and the look into the life of a music critic Lucky Them ($4,500) played to the niche audiences who would be interested in such depressing subject matter.

For more detailed numbers, visit Box Office Mojo.