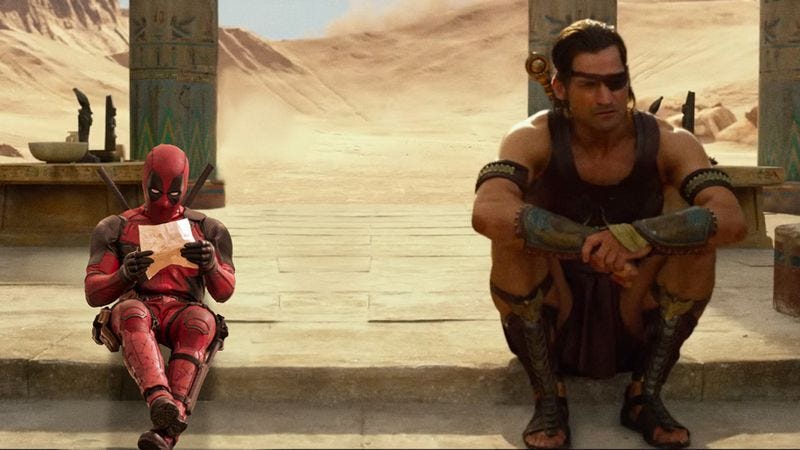 While a majority of the American moviegoing public's attention was turned towards the Oscars, movie theaters remained open this weekend, either for those boycotting the event or who weren't going to watch it anyway. And, for the third week in a row, a majority of those indifferent souls went to see Deadpool, which added $31 million to its $285 million-and-counting domestic haul. Next stop: Beating the all-time box office records for R-rated movies set by American Sniper and The Passion Of The Christ, reasserting the Merc With A Mouth's dominance over Jesus Christ himself. It makes total sense, considering Deadpool is exactly the kind of movie that appeals to people who don't give a crap about the Oscars.
Deadpool also handily beat Gods Of Egypt, which also makes sense because people who are boycotting the Oscars for being too white probably wouldn't be pumped to see Gerard Butler and the Danish dude from Game Of Thrones as Egyptian deities, either. (Oh, and the reviews were terrible.) Still, this is a slow time of year for movies, which means that Gods Of Egypt still managed to come in at No. 2 with $14 million; that's only one-tenth of its reported $140 million production budget, though, so still nothing to get excited about.
The week's other major new releases didn't fare very well, either: Feel-good underdog tale Eddie The Eagle came in at No. 5 with $6.3 million, a modest debut it will find a way to spin into a victory somehow. Then there's John Hillcoat's overstuffed crime thriller Triple 9, which came close at No. 6 with $6.1 million, but couldn't quite match the appeal of Taron Egerton in goofy glasses.
Meanwhile, the only Best Picture nominee to crack the top 10 was The Revenant at No. 10. Further down the charts, though, Spotlight and Room both made significant gains over last week at No. 20 and No. 23, respectively, gains that will likely continue given the films' big wins last night. Speaking of, buried in the second half of the top 50, Best Foreign Language Film nominee (and eventual winner) Son Of Saul found itself sandwiched between these two deliciously cynical slices of computer-generated bread:
At least it beat Norm Of The North?
For more detailed numbers, visit Box Office Mojo.