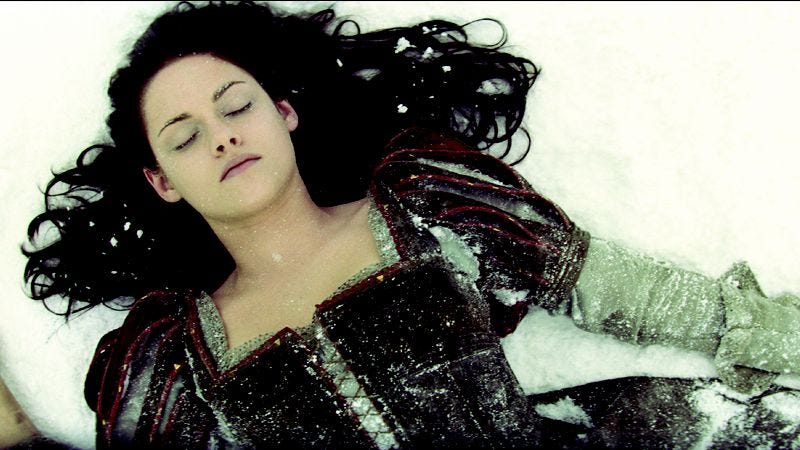 Playing Armageddon to Mirror, Mirror's Deep Impact—or, if you like, Dante's Peak to its Volcano—Snow White And The Huntsman proved that American audiences were wanting a live-action Snow White, but like Tim Tebow, were just saving themselves for the right girl. Despite speculation that only Kristen Stewart-enjoying fantasy Twihards would show up for the film, Box Office Mojo tells us that Snow White had "true four-quadrant appeal" (those quadrants being male and female, over and under 25-years-old), and that was enough for $56.3 million, the fourth-best opening weekend of the year after The Avengers, The Hunger Games, and The Lorax. That number will help offset the unfathomable $190 million budget, the bulk of which was spent on Stewart's sedatives and that cool effect where the mirror go all melty. In other semi-wide release news, the Christian historical drama For Greater Glory collected only $1.8 million on 757 screens, the clearest sign yet that Sharia law is just around the corner.
In limited release, the Weinstein Company's strategy of keeping Piranha 3DD as far away from critics and audiences as possible paid off, as it brought in only $179,000, with a $2,080 per screen average. The mediocre Best Animated Feature nominee A Cat In Paris fared better, though still not brilliant, with $6,000 per screen on six screens. But the truly apocalyptic numbers belonged to the pot comedy High School, which only posted a $403 per screen average on 200 screens, despite the presence of Oscar-winning actor and Gillette Fusion ProGlide pitchman Adrien Brody.
For more detailed numbers, visit Box Office Mojo.