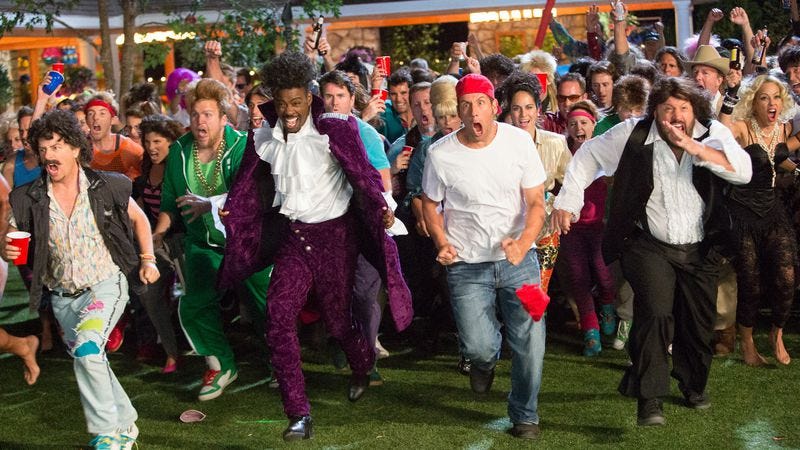 Maybe Idris Elba bellowed too soon: Only in a world teetering on the edge of total, fiery annihilation could Adam Sandler dicking around with his comedian friends make more money than monsters fighting robots that are controlled by mind-melding soldiers and led by Stringer Bell from The Wire. Despite its mostly awesome configuration of geek-friendly elements, Pacific Rim had to settle for third place this weekend, bringing in a Manila-sized sum of $38.3 million. (Put in perspective, that's only a hair more than the last Transformers made in its first full day of release.) Confirming that the apocalypse remains firmly un-canceled, audiences said "Hey, why not? I like that sitcom with David Spade" to Grown Ups 2, handing over $42.5 million to the worst-reviewed movie of the summer. Did ticket buyers forget what it was like to sit through the first Grown Ups? Have giant, city-destroying monsters fallen out of vogue? Are the end times nigh? Re-cancel the apocalypse, Idris Elba!

Actually, the real winner of the weekend was neither a live-action Neon Genesis Evangelion nor Sandler getting pissed on by a deer. Audiences instead went back for more Minion action, forking over an additional $44.8 million to make Despicable Me 2 the number one movie in America two weekends in a row. That puts the sequel on pace to not only outgross Pixar's vastly superior Monsters University, but just about every other movie released so far this summer that doesn't tie directly into The Avengers. To reiterate: Start digging those bomb shelters.

On the limited release front, The Way, Way Back expanded to 79 theaters and brought in a cool $1.1 million, confirming that, yes, it's following the zero-to-hero trajectory of its teenage protagonist. And Fruitvale Station made $377,000 on just seven screens—a good start for the day-in-the-life Sundance winner, which stars Elba's Wire costar Michael B. Jordan. Huh, so that's where Wallace went.

For more detailed numbers, visit Box Office Mojo.