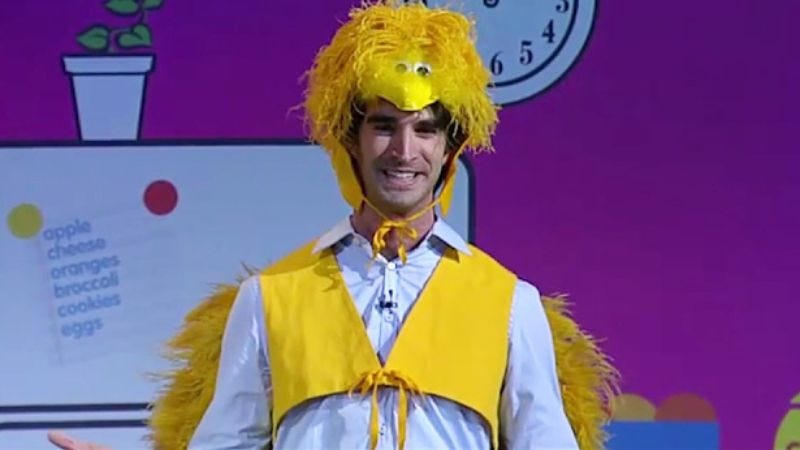 Following in the footsteps of innovation giants like Bill Gates and Steve Ballmer, Qualcomm CEO Paul Jacobs attempted to deliver the keynote speech at the International Consumer Electronics Show (CES) in an exciting, cutting-edge way no CES veteran had ever seen before. And, in many ways, he succeeded.
The ridiculousness started with a trio of actors playing what people over 40 believe to be the hip, youth generation. They spoke excitedly in cool, young slang about being "Born Mobile," suggesting that this generation of kids has no time for land lines or snail mail. In the 21st century, it's wireless or GTFO!
When the "OMG!"s died down, Qualcomm marched out a number of surprise guests ranging from the likes of Big Bird to Archbishop Desmond Tutu. Guillermo del Toro, Alice Eve, and a Rolls Royce also stopped by. Jacobs didn't even make much of an effort to tie the misfit parade together. The only thing they all seemed to have in common was an invitation to attend and very little understanding of what was actually happening. This was clearly demonstrated when del Toro used his stage time to show a particularly gruesome clip from Blade II for no apparent reason.
Maroon 5 also took the stage—but that was all they did. Qualcomm didn't actually have a license to stream the band's music, so in a game-time judgment call, Qualcomm played Dido on the speakers after an awkwardly long silence. If Jacobs and Qualcomm wanted to put on a keynote speech that technology buffs—and the rest of the sentient community—would never forget, they can look back on this performance as a resounding success.
Check out the video below, which gathers some of the best moments.