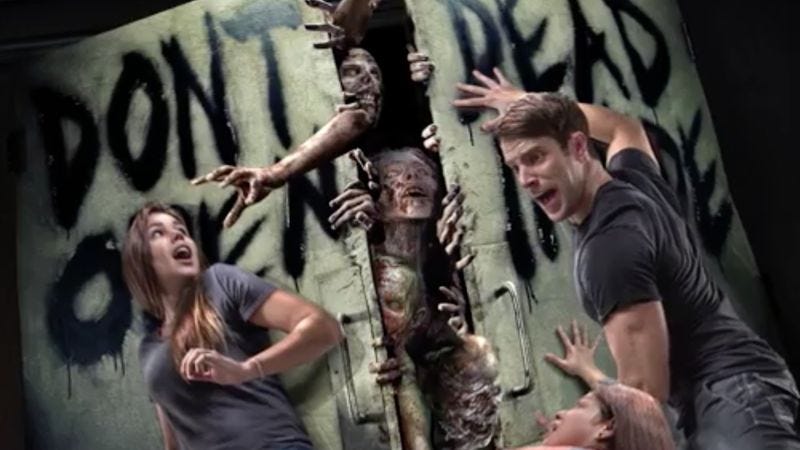 Following Sunday night's (thankfully) Carol-centric episode of The Walking Dead, Chris Hardwick gathered with some celebrity friends to do his weekly post-mortem of the preceding carnage on Talking Dead. Last night's guests included Ghostbusters reboot director Paul Feig and Carol Peletier herself, Melissa McBride—both of whom were previously announced as guests on the show, so we're spoiler-free here—who joined (though didn't quite match) Hardwick in his excitement about the impending walker takeover of Universal Studios Hollywood.
The Talking Dead host shared this promotional teaser of the new year-round attraction that will see the undead freed from their seasonally-appropriate confines in the fall to establish a permanent presence that's still within the confines of the park. The walk-through attraction, i.e., maze, will reportedly be a "no-holds-barred experience" that will be "significantly more intense than recent Horror Nights iterations of the maze, with more detailed set designs, props, costumes, makeup and animatronic figures."
Walking Dead executive producer Greg Nicotero will handle the prosthetics through his KNB Efx company; the maze will be housed in its own building and will premiere this summer. Could Johnny Depp's "cameo" in last week's episode have been a nod to this news? Probably not, because his swashbuckling franchise was spawned by a ride, and not t'other way around. But with this new attraction, the show has come one step closer to establishing its immortality.