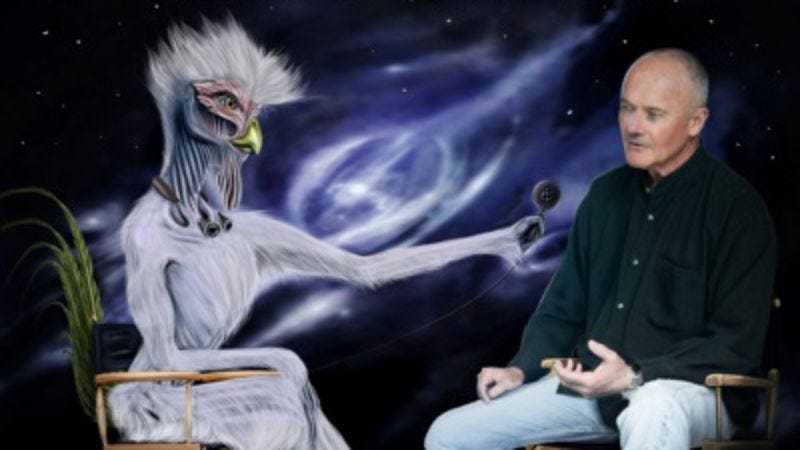 Though best known for his portrayal of mysterious weirdo Creed Bratton on The Office, Creed Bratton the actual person has actually been heavy into the music game for about 50 years now. A founding member of '60s rock group The Grass Roots, Bratton has spent his non-TV time making records with his backing band The Rubbermen, and this May he'll release his sixth solo record, Tell Me About It, a concept album Bratton calls an "audio-biography."

Broken into three acts, the record finds Bratton revisiting the various stages of his life—from dropping LSD to standing in unemployment lines to being rescued in the third act with a role on The Office. (Fittingly, that third act features guest vocals on one track from Rainn Wilson.) And judging by the actual cover art seen below, Bratton will be recounting all of this to a giant space-chicken, which sounds about right.
Tell Me About It will be released in three EP-sized "acts" starting April 16, with a full-length LP version due out May 21.
Bratton has a few tour dates scheduled for later this year, all of which are listed below.
Creed Bratton tour 2013
April 6—Wilbur Theatre—Boston, Massachusetts
April 20—Chuckchansi Casino—Coarsegold, California
April 21—Yoshi's—Oakland, California