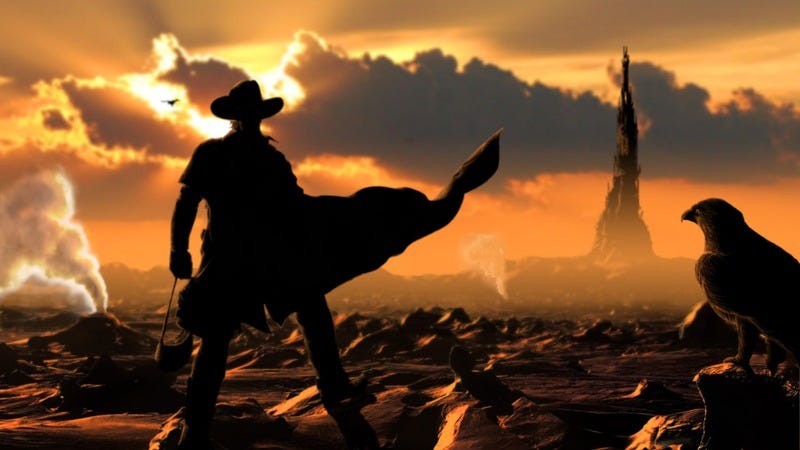 Ron Howard has spent much of the past decade trying to get an ambitious, multi-platform version of Stephen King's The Dark Tower up and running. It's a plan that includes both feature films and TV series incorporating the sprawling, eight-books-plus universe of Roland Deschain and his epic journey. And at least according to Aaron Paul last year, despite no confirmed reports of movement, it was still very much in development. Now The Hollywood Reporter says that the production is back on, though given its history, this is probably just a momentary flicker of hope, en route to the project being snuffed out again.
According to the latest news, Akiva Goldsman, Ron Howard, Brian Grazer, and Erica Huggins—all of whom have been involved with the project for some time—are producing. Sony and MRC are footing the bill with hopes of creating a franchise property. Goldsman and writer Jeff Pinkner have drafted a brand new script adapting the first novel, The Gunslinger. It's a draft supposedly wholly different from their previous efforts, probably as a way of pretending this isn't just another tilt at a windmill.
For his part, King sounds optimistic about the new iteration, agreeing to play along and pretend it'll really happen this time. "I'm excited that The Dark Tower is finally going to appear on the screen," King says. "Those who have traveled with Roland and his friends in their search for the Dark Tower are going to have their long-held hopes fully realized. This is a brilliant and creative approach to my books." All of that is likely just as true as the confirmation that it's for sure going to occur. No word yet on whether Javier Bardem is still the frontrunner to play Roland, but it would be fitting, in that, much like The Dark Tower itself, once you think it's done, it begins all over again.