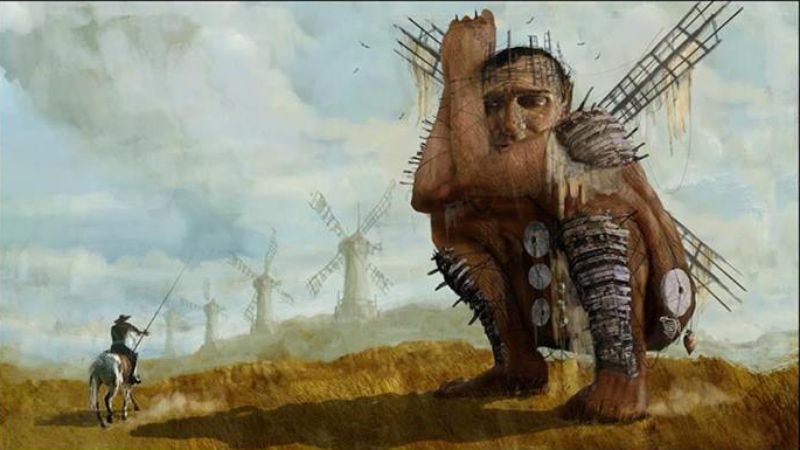 As first announced back in November, despite more than 15 years of catastrophe, Terry Gilliam is trying yet again to adapt Miguel de Cervantes' classic story Don Quixote, and now he says he plans to start filming in September. Gilliam has concept art for this new attempt, seen above, and producer Adrián Guerra (Buried, Apartment 143) is currently rounding up funding. Even the director himself admits, "It's obsessive… desperate… pathetic… foolish." At this point, it makes sense to call Cervantes' knight "Gilliam-esque" and retire the word "quixotic" for not quite doing Gilliam justice.

Plenty of Hollywood productions have had to struggle to make it to theaters, but few have struggled mightily as Terry Gilliam's ill-fated adaptation of Don Quixote. His efforts to adapt Miguel de Cervantes' classic story have been ongoing since 1998, when he attempted to mount a film with Jean Rochefort and Johnny Depp in the leads. The troubles the production have encountered since are too numerous—and already plenty well-documented—to list again here.

The 2002 documentary Lost In La Mancha, chronicling the production's collapse, was supposed to be the epitaph to Gilliam's efforts, but as of 2008, he was trying to revive the project with Robert Duvall as the delusional knight and Ewan McGregor, before running out of funding again in 2010. There's no word at this early stage who Gilliam intends to cast this time around, but look out in the coming months for news of casting, as well as the inevitable tornadoes, earthquakes, and plagues of locusts that will dog the production.