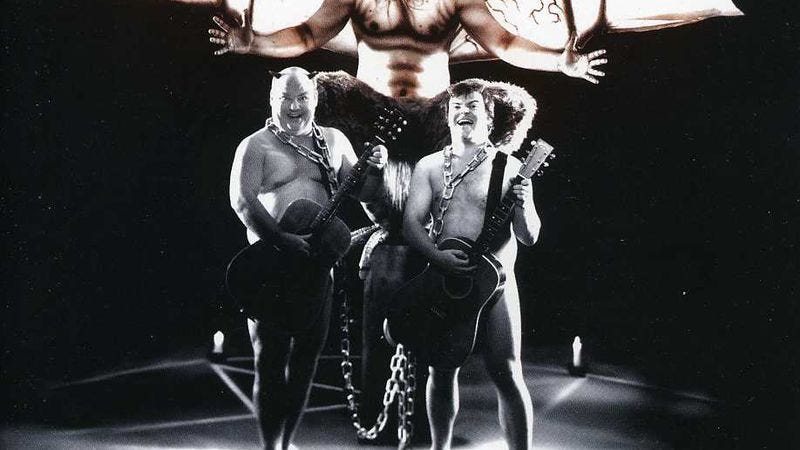 Tenacious D's self-titled debut turns 12 this year, and having reached musical puberty, the record is getting its very own deluxe reissue. The LP, with tracks like "Kielbasa" and "Inward Singing," will get an appropriately highbrow, 180-gram gatefold vinyl reissue, complete with a brand new song, "Pat Reilly." There really is no better way to hear "Drive-Thru" than on the ol' hi-fi in true-to-life stereo sound.
The D's self-titled record, with its production by the Dust Brothers and musical accompaniment from Dave Grohl, was a relatively big commercial success upon release, hitting No. 33 on the Billboard 200. Tenacious D is currently up for a Grammy for its latest record, 2012's Rise Of The Fenix.
The duo is also doing a select number of acoustic tour dates this March. A full schedule is below.
Tenacious D 2013 Acoustic Tour Dates:
March 2—House Of Blues–Boston, Massachusetts
March 3—Lupos Heartbreak Hotel—Providence, Rhode Island
March 5—Stage AE—Pittsburgh, Pennsylvania
March 6—The LC Indoor Pavilion—Columbus, Ohio
March 8—The Ritz Theatre—Raleigh, North Carolina
March 9—House Of Blues—North Myrtle Beach, South Carolina
March 11—Hard Rock Live—Orlando, Florida
March 12—The Fillmore Miami Beach At The Jackie Gleason Theater—Miami, Florida