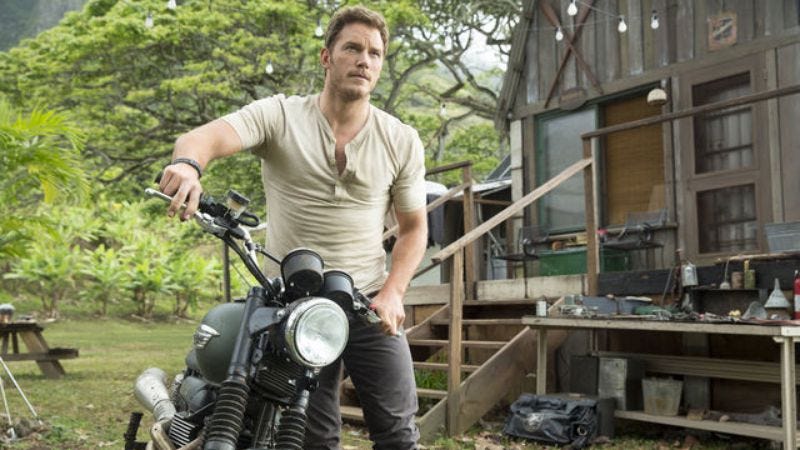 The Today show devoted the Cretaceous hour of its daily broadcast era to take a tour behind the scenes of Jurassic World with the help of director Colin Trevorrow, Chris Pratt, Bryce Dallas Howard, and—as is becoming tradition—no dinosaurs. While the below clips will do little for those asking whether they, ah, eventually do plan to have dinosaurs on their dinosaur movie tour, it attempts to make it up to you with some classic Chris Pratt goofing around and a few plot details (that we largely already knew, but just go with it).
"People from around the world, 20,000 visitors a day, come to see the dinosaurs and see the several attractions," Pratt says of Jurassic World's Jurassic World, which has, some 22 years later, finally realized the dreams of Dr. John Hammond of a dinosaur theme park where people aren't eaten. "It's been around long enough to where attendance starts to fall off a little bit," Pratt adds. "So they've decided to come up with a new attraction to bring even more people in. You're never gonna believe it, but it doesn't go well."
While we obviously get no further look at what that new dinosaur attraction is—or even what the old ones are—Today correspondent and former First Daughter Jenna Bush Hager assures us, "The dinosaurs are back!" And hey, if there's anyone you can trust to tell you about a threat no one else can actually see, surely it's the daughter of George W. Bush.

Visit NBCNews.com for breaking news, world news, and news about the economy
Visit NBCNews.com for breaking news, world news, and news about the economy