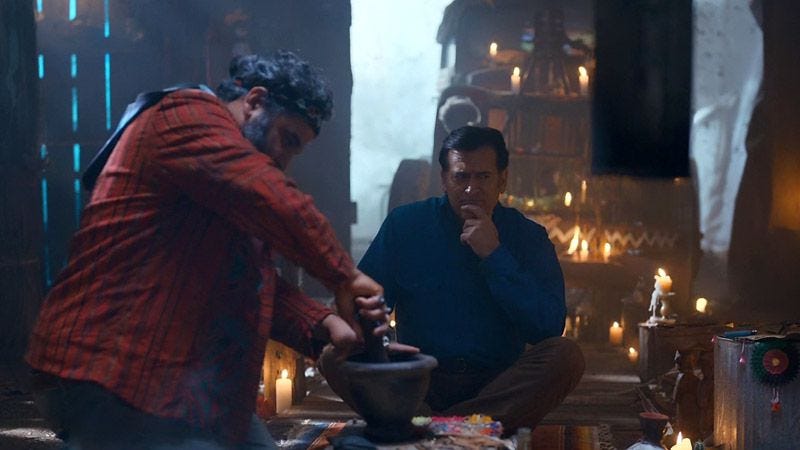 You can probably thank the winter edition of the Television Critics Association press tour for all the recent (and forthcoming) news about TV shows that will either be forgotten or in production by the time the summer press tour rolls around. But the TCA tour is also an opportune time for networks to look at, or reveal, their bigger pictures. According to Variety, Starz just shared its plans to expand on its diverse programming by borrowing from the supernatural—and oenological. The network announced three new series on Friday, including a Santería-inspired series from Alejandro Brugués (Juan Of The Dead), who will executive produce with The Blair Witch Project director Eduardo Sánchez.
Brugués' series will see two undercover agents drawn into the world of Santería while investigating a bizarre murder (seemingly a prerequisite for pay-cable shows these days). But their guns and badges probably won't provide much help in the "secret war" that's brewing in Cuba between two opposing sects of the Yoruba-rooted religion. That is, unless they can find a heina of their own (there, now Sublime's "Santeria" is stuck in your head).
But Santeria is only one of the shows comprising Starz's recently-launched Hispanic Initiative, which it's partnered on with Televisa USA. The network is also developing Maleficio, an adaptation of the supernatural thriller that was broadcast in Mexico in the '80s. Mauricio Katz, who worked on FX's adaptation of The Bridge, will produce and write the series, which centers on a powerful Mexican businessman whose wheelings and dealings include a pact with the devil. This will be Katz's third adaptation for American audiences, as he's already been tapped by A&E for its Niño Santo series.
On a lighter note—which has hints of vanilla and cultural pride—Starz is developing Pour Vida, a series that's based on a short story about twin Mexican-American sisters who open a wine bar in Boyle Heights. After inheriting a building from their dead aunt, sisters Brook and Lynn Hernandez try to stem the tide of gentrification with some "gentefication," i.e., shoring up the current residents' holdings by running a profitable business that also promotes a sense of community.