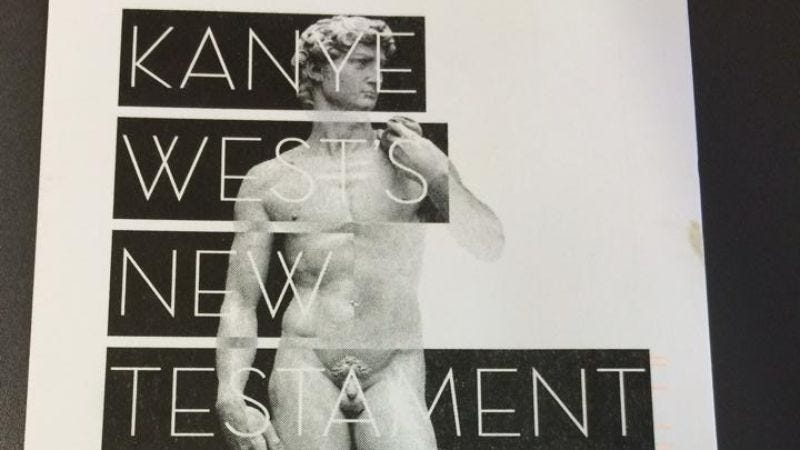 Not content to leave the inscrutable, needlessly elaborate promotion of Kanye West to Kanye West himself, someone sent various journalists—and me—postcards appearing to advertise something dubbed "Kanye West's New Testament" today. As you can see in the full images below, the front features a photo of Michelangelo's David, the "A" in Testament hung with care around his dick. At the bottom, "Available June 10, 2014" promises that something will arrive five days from now—possibly a new album, possibly a revised version of The New Testament in which Jesus offers salvation for the sins of the world, then also calls up his friend Kanye to see how it's going with his money.
On the back, there's a personalized note: "Sean, We held down by society's perception of us. We just don't wanna be embarrassed. Thing is, I ain't got a problem with looking stupid." It's topped off by a hasty, indifferent scrawl that I would totally buy as Kanye's actual autograph, and a number that indicates it as but one of a limited-edition of 225 of these things.

Of course, that "personalized note" is just a quote from this interview about Kanye's "Bound 2" video, not some sort of blessing of everything I've ever written about him.  And in case it weren't obvious, "Kanye West's New Testament" doesn't seem to be anything, really.

Despite the uproar on Twitter, which eagerly declared this Kanye's way of promoting his surprise seventh album, as confirmed by some of the other outlets that received it (Gawker, BuzzFeed, etc.), it's definitely not from Kanye's camp. "We have no idea what this is," his representatives tell Gawker. "It's not coming from us." Meanwhile, the associated Twitter account @KWsNewTestament and Facebook page have no information beyond that June 10 date. And also, this is a postcard sent to writers—two things it's difficult to imagine Kanye West deliberately coming into contact with.
In all, this seems to be nothing more than a bizarre art project deliberately intended to confuse the Internet. So, like a new Kanye West project, but not.

Anyway, thanks for the postcard.