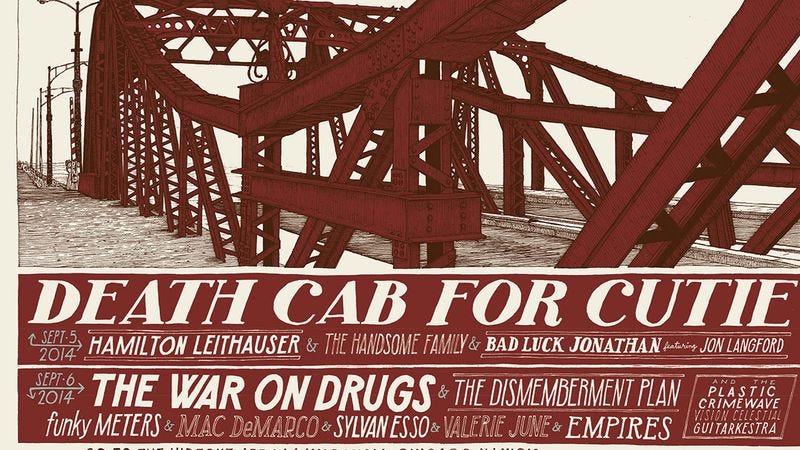 Sure, you've still got Pitchfork and/or Lollapalooza to rock through, but this year's Hideout Block Party/A.V. Fest is just eight weeks away, on Friday, September 5 and Saturday, September 6, outside the Hideout. It's always a swell time. If you've been hesitating about buying a two-day pass, your agony is over: Single-day tickets are now on sale, and the information about which bands are playing which day is here:
Friday, September 5: Death Cab For Cutie, Hamilton Leithauser (of The Walkmen), The Handsome Family (of True Detective theme song), and Bad Luck Jonathan (feat. Jon Langford).
Saturday, September 6: The War On Drugs, The Dismemberment Plan, Funky Meters, Mac DeMarco, Sylvan Esso, Valerie June, Empires, and Plastic Crimewave Vision Celestial Guitarkestra.
As always, there will be plenty of food trucks to keep your belly full, and copious amounts of Lagunitas beer to quench your thirst. In addition to the fine folks at Lagunitas, we are happy to welcome Jack Link's, Jeni's Splendid Ice Creams, and WXRT as partners in the fest. See you there? See you there.