While plenty of Shakespeare's plays have been adapted to fit a specific time period or genre, it's not very often that Shakespeare is given the sci-fi treatment. Stepping in where Forbidden Planet left off, ArcLight Films will produce Henry5, a sci-fi thriller based on Shakespeare's Henry V and both parts of Henry IV with Michael Caine, Ray Winstone, Gerard Depardieu, Derek Jacobi, and Vinnie Jones rumored to star. Below is the teaser poster: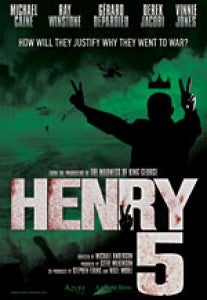 Michael Anderson (who's served as director of photography on several commercials for Ridley Scott Associates) will direct as well as co-write the adaptation with Andrew Hislop and Steve Wilkinson. Stephen Evans, who has produced several Shakespeare film adaptations—including Kenneth Branagh's decidedly non-sci-fi Henry V—is also on board to produce.

The film's official synopsis:
"In an age of apocalypse, in a land without a leader, a dissolute prince finds redemption when he crushes a rebellion that threatens to destroy his father's kingdom. But upon assuming the throne himself, he immediately engineers a war against a neighboring state to slake his lust for power. Despite his enemy possessing weaponry rendering their forces almost invincible, the newly crowned king seizes a glorious victory from the jaws of defeat by ruthlessness and cunning. But for all his wiles there's one thing the young monarch has overlooked. Just as he's prepared to do whatever it takes to ensure victory, so is his enemy…"

While many Shakespeare film adaptations have been aimed at teens as of late, it seems that "Shakespeare for adults" is making a comeback, starting with Julie Taymor's upcoming The Tempest. Here's hoping Henry5 can also break the streak of stuff like She's The Man and A Midsummer Night's Rave.