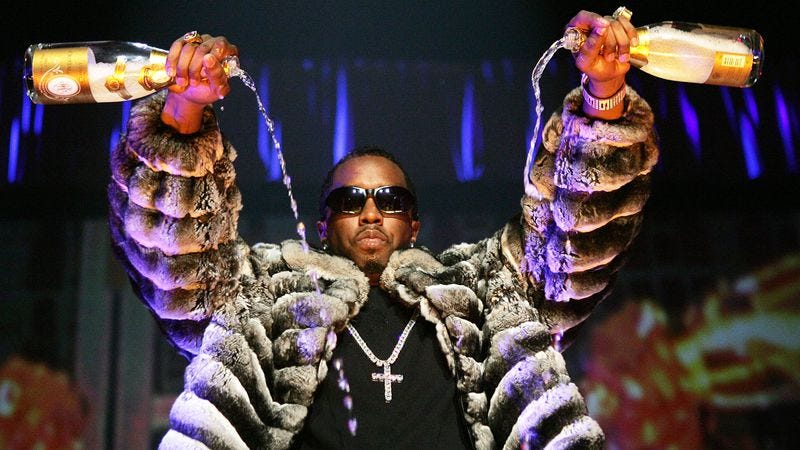 It would appear that Sean "Diddy" Combs is turning from face to heel. The media mogul will unleash what can only be described as the Mountain Dew of recorded music, acting as executive producer for the soundtrack to WWE 2K17, the latest video game from World Wrestling Entertainment.
"I'm a huge WWE fan," Combs says in a press release sent to Billboard. "I love the intensity and the competition." Combs is set to appear on Monday Night Raw tonight, after which he will join the ranks of WWE superstars—including Bobby Heenan, Hulk Hogan, and Jimmy "The Mouth Of The South" Hart—who would make better presidential nominees than Donald Trump.
From Uproxx's track list, it looks like it'll be a nostalgia trip for anyone who worked at a suburban record store in the late '90s, when two of the biggest trends amongst Sbarro enthusiasts were the "attitude era" of the WWF and horrible music. Combs—who rivals Ed Leslie and Mick Foley for sheer amount of gimmick changes over the years—covers all his bases on the new soundtrack, including trap, rap, and deathcore. We'll also get tracks from post-mall punks Twenty One Pilots, Travis Barker and Yelawolf aping the Judgment Night soundtrack, and a classic rock bone throw from Black Sabbath. Unfortunately, this in-game soundtrack is very real, unlike pro wrestling.
Diddy will be guest hosting tonight's episode of Monday Night Raw, and WWE 2K17 comes to video-game systems on October 11.