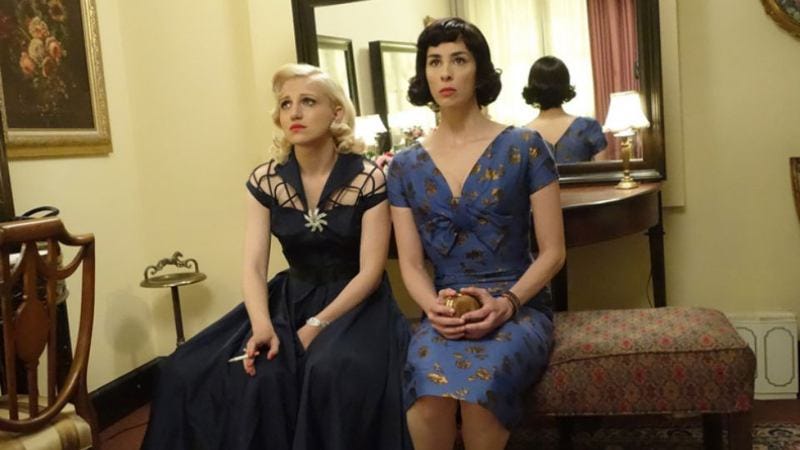 As Showtime's Masters Of Sex barrels into 1966 and the sexual revolution with its upcoming third season, it's also reaching back into the past. Specifically, the distant past of Masters Of Sex season two, when Annaleigh Ashford's character, Betty DiMello, was briefly reunited with her former lover Helen, played by Sarah Silverman. Although Silverman only appeared in two episodes of the historical drama, her appearance had long-lasting consequences, including the dissolution of Betty's marriage, and also a fun talk show anecdote where star Lizzy Caplan told Jimmy Kimmel about all the times she's seen his ex-girlfriend naked.
Now, it's been announced that Helen—and Silverman—will be returning to the show for another run, this time with an eye toward motherhood. According to Variety, Helen and Betty are once again set to become an item, with the ultimate goal of raising a child together—a tricky prospect for two lesbians with the bad luck to be living in 1966.
Silverman has kept a relatively low profile since her last appearance on the show—albeit the kind of "low profile" that includes winning an Emmy for her latest stand-up special—performing her regular guesting duties on Bob's Burgers and giving a notable performance as Jay Baruchel's bored right hand on Man Seeking Woman. She also starred in an indie drama, I Smile Back, with Josh Charles, who'll also be joining Masters Of Sex when it resumes next month.