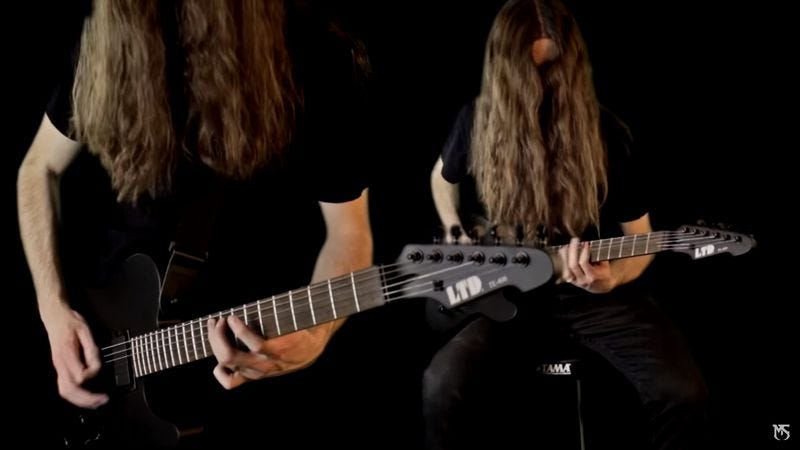 Beloved by Bill, Ted, Beavis, Butt-Head, and pretty much anyone who slept through high school English while wearing a frayed jean jacket, Iron Maiden has been entrancing metalheads for four decades with a potent mixture of guitar pyrotechnics, actual pyrotechnics, horror iconography, and the eardrum-shattering vocals of Bruce Dickinson. (Not that Bruce Dickinson.) Now, MetalSucks is paying tribute to these stalwart British rock icons with what it's billing as "A Mash Up Of Eleven Of Iron Maiden's Most Iconic Guitar Leads." Seeing as how the group is as close as any to being a real-life Spinal Tap, that's a most appropriate number of leads. There are no lyrics here and, thus, no evocation of Mr. Dickinson, also known as "The Air Raid Siren." No vocal cords were ruptured in the making of this YouTube video.
Instead, the four-minute video consists of a surprisingly seamless instrumental medley of guitar introductions from famous Iron Maiden songs, all performed by Samus "66Samus" Paulicelli in front of a stark black background. According to MetalSucks, the mashup "span[s] all eras of the band." But there is a certain sameness to the selections, despite the years that separate them. MetalSucks both acknowledges and celebrates this remarkable consistency on behalf of the band.
We're not sure what's more impressive—that so many Iron Maiden leads sounds [sic] so similar in terms of key and structure, or the fact that even in spite of that they're all so distinct and instantly recognizable.
Those "instantly recognizable" selections include "The Evil That Men Do," "Phantom Of The Opera," and "Wasted Years." To experience them again in this form is to be transported, Proust-like, back to middle-school detention. Let the furtive air guitar demonstrations commence.