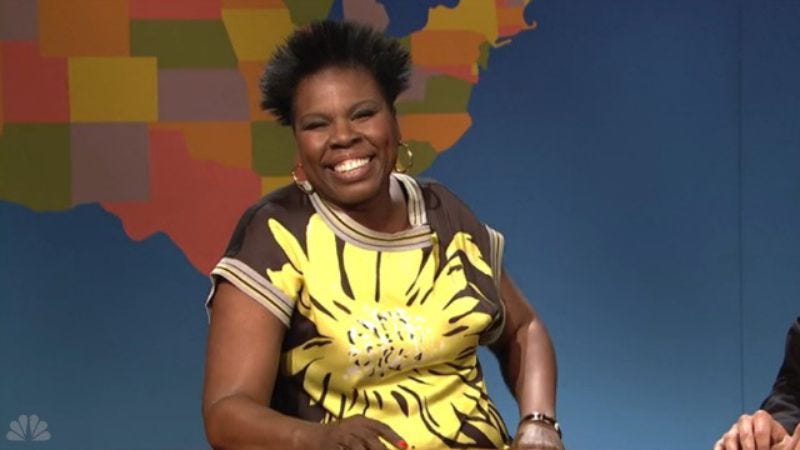 Writer Tomi Obaro puts the recent racist and misogynistic attacks against Leslie Jones in context in a great new long-form piece for BuzzFeed. As she writes, "Black women have always been integral to comedy—from Moms Mabley to Whoopi—and have set the stage for stars like Leslie Jones, Jessica Williams, and Issa Rae. So why must black women in comedy still fight for recognition?" Obaro explores that question in a piece that doubles as both an interrogation of systemic prejudice as well as a history lesson in black female comedians dating back to the Jim Crow era.
Obaro starts by pointing out that black women generally face the harshest barriers in the entertainment world (as American Comedy Institute founder Steve Rosenfield puts it, the short history of America goes "first white men, second black men, third white women, four black women"). But she also questions why decades of successful black female comedians—most notably Whoopi Goldberg in the '90s—haven't been able to permanently break down barriers. "It's this tension that is frustrating," Obaro writes. "Black women have been at the apex before, but it's never sustained."
The comedians Obaro spoke to have a theory as to why it's so hard for black women to find a place in the comedy world. She writes:
A few years ago, [stand-up comic Phoebe Robinson] performed at Wyatt Cenac's birthday show in Boston alongside John Hodgman, Jon Glaser, Paul F. Tompkins, and Eugene Mirman. Afterward, there was an afterparty at a hotel. "So everyone was sitting down and there was an open seat between Hodgman and Glaser. And then Hodgman turned over and was like, 'So, Phoebe, what's your deal?' I was like, 'What?' 'What do you want to do with your career?' Then he gave me all this career advice. He's the only white male comic who has really, truly treated me like a colleague. It clarified that there is a whole other part of stand-up that I will never have access to."

Calise Hawkins, 35, a stand-up comic who was also a cast member on Funny Girls, echoes that sentiment. "I used to hang out with a group of guys and we would all get onstage and everybody would do great; we were all funny. But afterwards, what I've noticed is the guys would go up to the guys and tell them how funny and how great something was and be excited to talk to them about it. And they wouldn't come up to me and be excited to talk about something I said. They wouldn't really care. And what I've realized is, guys need that. They need that, because otherwise they'll be competitive. It's their way of accepting each other. I don't think they leave us out because they don't like women, I think it's more they don't know that we need [that support] too."
You can read the full article over on BuzzFeed.