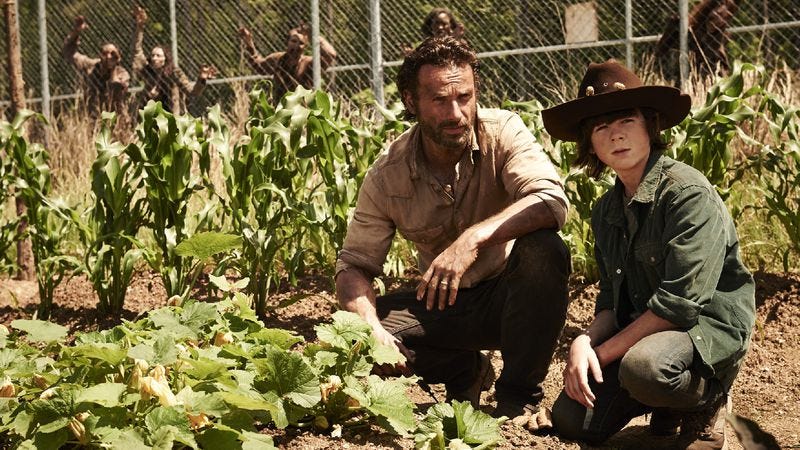 An eerie stillness settled over the early TV ratings reports this morning: ABC's Sunday-night dramas were both down from the previous week, while dependable CBS performers The Good Wife and The Mentalist hit series lows. Did the combined one-two punch of a topsy-turvy MLB playoff game and the NFL's most storied rivalry completely swallow the night's scripted and unscripted programming? Yes—game two of the American League National Championship and the Cowboys-Redskins game both outpaced all network competition in terms of total viewers and 18-49 ratings—but that's only the half of it. The other half is the moaning, groaning mob that shuffled into work Monday morning having spent the previous night with the latest Walking Dead premiere, an unstoppable 16.1 million strong according to an AMC press release.
That 16.1 million—10.4 million of which sit squarely in the lucrative, not-quite-as-decayed-as-others 18-49 demographic—sets a new viewership record for the series that sets a new viewership record whenever it comes back from an extended time away. For some added perspective, since this trend doesn't seem to be reversing itself anytime soon: That premiere audience is almost as large as the combined audience for NBC's entire Comedy Night Gone Wrong this past Thursday. Which raises the question: Will all of the characters on Welcome To The Family just turn up dead next week? Tune in (in numbers that don't stand a prayer of matching The Walking Dead's) next week.
For more detailed numbers, visit TV By The Numbers.