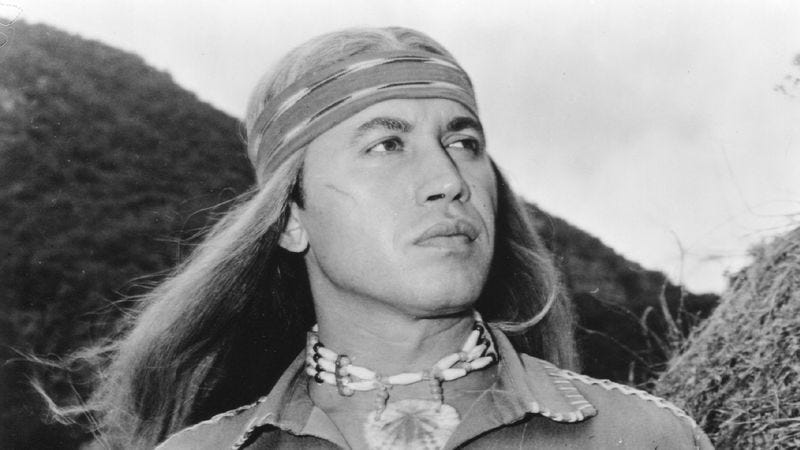 Michael Ansara, an actor who had a busy career in TV and movies for 55 years, has died at the age of 91. The tall, deep-voiced, Syrian-born Ansara was cast as a wide array of Native Americans, Arabs, Mexicans, and other exotic types, though he was perhaps best known for playing the legendary Klingon warrior and diplomat Kang in episodes of three different series in the Star Trek franchise.
In the mid-'40s and well into the '50s, Ansara made flyspeck appearances, often uncredited, in several films, including South Sea Sinner (1950), Soldiers Three (1951), My Favorite Spy (1951), the Joseph Mankiewicz production of Julius Casar (1953), The Robe (1953), The Egyptian (1954), and The Ten Commandments (1956). From 1956 to 1958, he had a co-starring role as Cochise on the TV Western Broken Arrow.
After that series ended, Ansara played an Apache turned U. S. marshal on Law Of The Plainsman, a series that was spun off from an episode of The Rifleman. It lasted one season. In 1961, he starred in the movie Voyage To The Bottom Of The Sea with his then-wife, Barbara Eden. He then spent most of the '60s doing guest shots on episodic TV, including three appearances on Eden's sitcom, I Dream Of Jeannie.
Kang, who Ansara first played in a third-season Star Trek episode, "Day Of The Dove" in 1968, might have been just another guest shot, but the character caught the imagination of Star Trek fans, and of Ansara himself, who described the experience of reading the script and recognizing "how special the role was and how rare it was to find a character like this in either film or television." Some three decades later, he was given the chance to reprise the role, first on Star Trek: Deep Space Nine and then on Voyager. Accounting for the character's enduring popularity, Ansara gave himself partial credit for having played not "as a bad guy" but as "a dynamic character" who "was doing what he thought was right."
Ansara also appeared in Larry Cohen's It's Alive (1974), The Message (1977), The Manitou (1977), and the late-'70s TV series Buck Rogers In The 25th Century, where he had a recurring role as the villainous Kane. He later voice the role of Mr. Freeze in the '90s animated Batman series and several of its spin-offs.