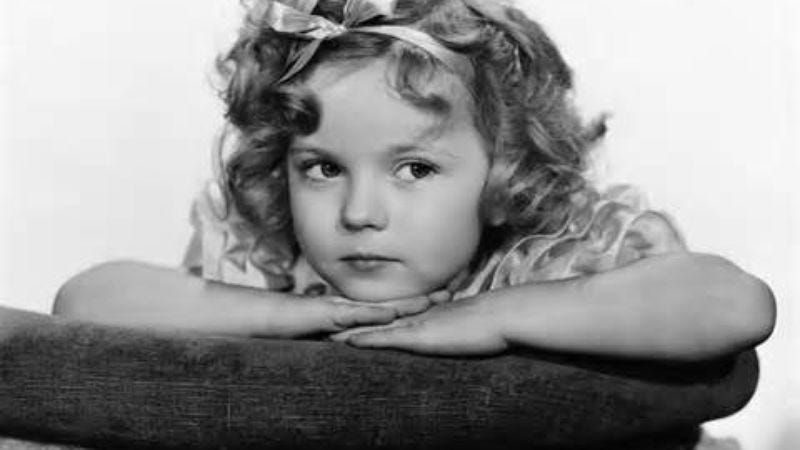 Shirley Temple Black—who conquered the world when she was just a child—has died at the age at 85. Temple made her movie debut when she was 3 years old, and certainly wasn't the first child star in Hollywood. But the sheer scale of her popularity, and the degree to which a major studio turned all its resources toward milking that popularity, was unprecedented for a performer her age, and it remains unmatched. She was the top box-office star from 1935 to 1938, and is widely credited with both saving Twentieth Century-Fox and giving hope—then, as always, a precious commodity—to Depression-era moviegoers. For this, she received a thumbs-up from President Roosevelt, who remarked on how "splendid" it was that "for just 15 cents, an American can go to a movie and look at the smiling face of a baby and forget his troubles."
Temple entered movies after being spotted by an agent for Educational Pictures, who visited the dance studio where Temple's mother Gertrude had enrolled her—all as part of what the adult Temple Black would later recall as "a calculated effort" to transform her into a working performer. Temple's first screen appearances were in a series of Educational shorts called Baby Burlesks, in which cute, tiny tots were used in spoofs of adult fare.
By the time Educational went out of business in 1933, the already-very-busy Temple had appeared in productions by Paramount, Universal, and Warner Bros. studios.  Fox signed Temple—and her mother, who served as her official agent, acting and dance coach, hairdresser, and chauffeur—and featured her in the 1934 musical Stand Up And Cheer, whose plotline eerily mirrors the popular mythology that would spring up around Temple herself: Warner Baxter plays a show business promoter who is appointed head of the Department of Amusement by the President, in the hopes that he will be able to drum up some entertainment so intoxicating that Americans will cheer the hell up and the Depression will end. (He succeeds.)

That same year, Fox loaned Temple out to Paramount for the Damon Runyan adaptation Little Miss Marker, in which the rising star bewitched a bunch of tough-talking New York City street mugs.

By the last week of December, Fox released Bright Eyes, the first name-above-the-title starring vehicle specifically built around Temple. It was a smash, and Fox studio head Darryl F. Zanuck set up a special unit to select material for his biggest new star. By the time the next round of Academy Awards were handed out in February 1935, a new special prize—the miniature "Juvenile Oscar" for distinguished work by those under 18—had been invented for the express purpose of presenting the first one to Shirley Temple.

Temple's hits during her box-office reign included The Little Colonel (1935), Curly Top (1935), The Littlest Rebel (1935), Poor Little Rich Girl (1936), Dimples (1936), Wee Willie Winkie (1938), Heidi (1938), Rebecca Of Sunnybrook Fair, (1938), Little Miss Broadway (1938), and The Little Princess (1939). By general agreement, it didn't matter much whether they were directed by John Ford (who did Wee Willie Winkie) or had some nonentity at the controls. Nor did it much matter which adult star she would reduce to playing the adoring, awestruck straight man. As David Thomson once wrote, "She unnerved or outclassed the adults in her films so that they seem uneasy, shambling monsters beside her. Only Bill 'Bojangles' Robinson"—with whom she dances in The Little Colonel and several other films—"could stand up to her."
But even the foxhole of the Great Depression was not without its atheists. The most prominent of these was Graham Greene, then-reviewer for the British magazine Night And Day. In his review of Wee Willie Winkie, Greene not only sneered at the manipulative sentimentality of Temple's image, which also adorned licensed dolls, dishes, and clothing, inspired millions of corkscrew-curl haircuts, and even lent itself to the syrupy-sweet, non-alcoholic drink that shared her name. He also dared to suggest that there might be something calculatedly unwholesome about her appeal: "Watch the way she measures a man with agile studio eyes, with dimpled depravity," he wrote. "Adult emotions of love and grief glissade across the mask of childhood, a childhood that is only skin-deep… Her admirers—middle-aged men and clergymen—respond to her dubious coquetry, to the sight of her well-shaped and desirable little body, packed with enormous vitality, only because the safety curtain of story and dialogue drops between their intelligence and their desire."
For the good of polite society, Fox promptly sued Night And Day out of existence; Greene was forced to flee to Mexico to stay one jump ahead of the lawyers. (There, he wrote The Power And The Glory while waiting for things to cool off.)  Decades later, that review was still being excised from collections of Greene's writings on film.

Temple's last couple of Fox vehicles, The Blue Bird and Young People (both 1940) underperformed at the box office; she was growing out of her image. Her family bought her out of her remaining contract and, after a brief vacation, she signed on at MGM. During her difficult attempted transition to adolescent and young-lady roles, she appeared in Since You Went Away (1944), I'll Be Seeing You (1944), The Bachelor And The Bobby Soxer (1947), and Fort Apache (1948), which reunited her with John Ford. That film also gave her the chance to appear with her first husband, John Agar, whom she had married in 1945.
Temple filed for divorce from Agar in 1949. (It has been reported that, when Agar wound up in court for issues related to his drinking and tried to explain that he'd begun drinking to excess during his first marriage, the judge sternly rebuked him for trying to blame his problems on poor Shirley Temple.) Almost immediately, she became engaged to Charles Alden Black, took his last name, and announced her retirement from acting. Their marriage lasted until her husband's death in 2005. As Shirley Temple Black, she found a second life by taking on a new public role as a fundraiser for Republican causes, a U.S. delegate to the United Nations, an unsuccessful candidate for the U. S. Congress, and, in 1974, United States ambassador to Ghana.
In 1989, in the wake of the Velvet Revolution, she was appointed ambassador to Czechoslovakia. By all accounts, her tenure there was very successful, despite the speed bump when she first arrived at the Prague airport and expressed surprise upon learning that the enormous crowd that greeted her was there to meet Czech President Vaclav Havel's specially invited guest, Frank Zappa.
Temple was awarded numerous times for her acting career, including both a Life Achievement Award from the Screen Actors Guild and the Kennedy Center Honors. She has a prominent star on the Hollywood Walk of Fame and her handprints and footprints, laid down in 1935, are outside Grauman's Chinese Theatre. Since 2002, a life-size statue of Shirley Temple in her child star heyday has stood on the Fox Studio lot.