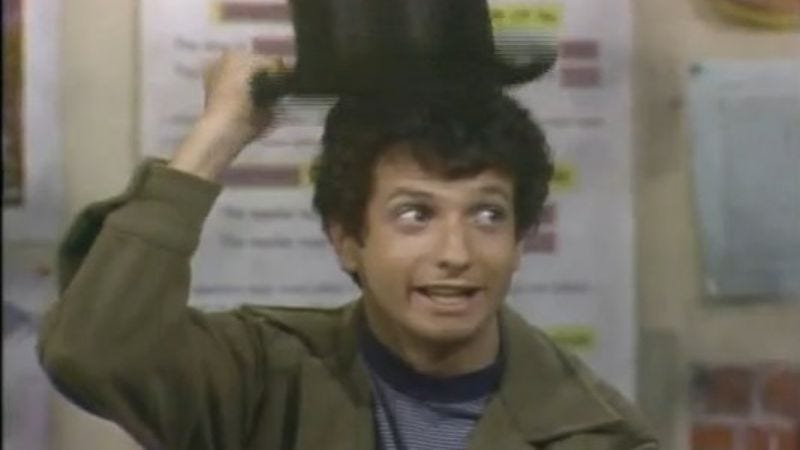 Ron Palillo—best known for playing the snickering, attention-starved Sweathog Arnold Horshack on Welcome Back, Kotter—has died following a heart attack. He was 63.
As Horshack, Palillo turned being irritating into a comic artform, constantly petitioning Gabe Kaplan's teacher character with his signature "Ooooh! Ooooh!" (a parody of Joe E. Ross's exclamations from Car 54, Where Are You?, though arguably made more famous by Palillo).
While Epstein—played by Robert Hegyes, who died in January—provided a touch of Marx Bros.-inspired zaniness to the goings-on at James Buchanan High, it was Horshack who was more explicitly the class clown, constantly cracking wise, interrupting whenever he felt ignored, and needling others in his exaggerated nasally wheeze.
Palillo's naturally oddball, human cartoon-like persona lent itself well to a post-Kotter career of providing voiceover for animated shows like Laverne And Shirley In The Army, Darkwing Duck, and especially his starring role in Rubik The Amazing Cube. He also had cameos on numerous other popular series such as CHiPs, The A-Team, The Love Boat, Cagney And Lacey, and One Life To Live, as well as films such as Skatetown U.S.A. and Friday The 13th Part VI: Jason Lives. Most notably, he played himself on several episodes of Ellen.
Off screen, Palillo contributed art to several children's books and enjoyed a prolific stage career, landing starring roles in productions of Amadeus, Who's Afraid Of Virginia Woolf?, and Guys And Dolls, as well as writing and presenting his own play, The Lost Boy, about the life of Peter Pan author J.M. Barrie.  He was also an acting teacher to his own class of high school students, who no doubt restrained themselves every single day from bugging the shit out of him, Horshack-style.