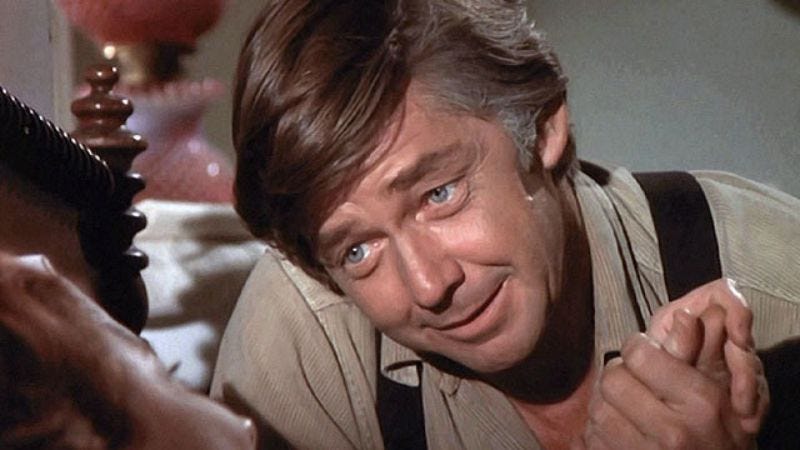 Actor Ralph Waite, best known as the patriarch of The Waltons, has died at the age of 85. Waite didn't turn to acting until he was 30, having spent his younger days as a Marine, social worker, book editor, and Presbyterian minister. His youthful searching may have contributed to the well-traveled quality that, along with his fine, lyrically gruff voice, made him so effective in the role of John Walton, Sr., the Depression-era father of the Walton family. He first played the role in the 1971 TV-movie The Homecoming: A Christmas Story, where the Waltons' mother was played by Patricia Neal. With Michael Learned as his wife, he went on to head The Waltons for nine seasons, from 1972 to 1981. He also directed several episodes of the series and reprised the character in a string of reunion TV movies, the last of which was 1997's A Walton Easter.
Waite made his professional stage debut in 1960, in the Obie-Award-winning Circle In The Square production of Jean Genet's The Balcony.  He also appeared in the original Broadway productions of James Baldwin's Blues For Mister Charlie and Tennessee Williams' Slapstick Tragedy, and starred in the off-Broadway premiere of William Alfred's Hogan's Goat, before making his movie debut as a member of the chain gang in Cool Hand Luke (1967). That same year, he played Claudius to Martin Sheen's Hamlet, in a semi-notorious, counterculture-flavored production directed by Joe Papp.
He also had roles in Bob Rafelson's Five Easy Pieces (1970), Robert Aldrich's The Grissom Gang (1971), Robert Mulligan's The Pursuit Of Happiness (1971), Larry Peerce's The Sporting Club (1971), the blaxploitation thriller Trouble Man (1972), and the absurdist counterculture Western Kid Blue (1973). In 1977, he played a crewmember of a slave ship on Roots, and appeared as Pozzo in a TV production of Waiting For Godot.
Waite remained devoted to the theater, and in 1975 he plowed several thousand dollars of his TV money into the creation of the Los Angeles Actors' Theater, where he sometimes also performed and directed. In 1980, Waite—a recovering alcoholic—wrote, directed, and acted in On The Nickel, an indie film about the skid-row culture of Los Angeles, which he also funded out of his own pocket.
In 1983, Waite starred in a short-lived TV series, The Mississippi. In later years, he balanced stage work with appearances in The Bodyguard (1992), Cliffhanger (1993), the TV series Murder One (1996), John Sayles' Sunshine State (2002) and Silver City (2004), as well as the HBO series Carnivale (2003-2005). More recently, he had recurring roles on Bones, on which he played David Boreanaz's grandfather, and NCIS, as Mark Harmon's father. He could also be seen, in the last few years. as a white-haired priest on the daytime soap opera Days Of Our Lives.