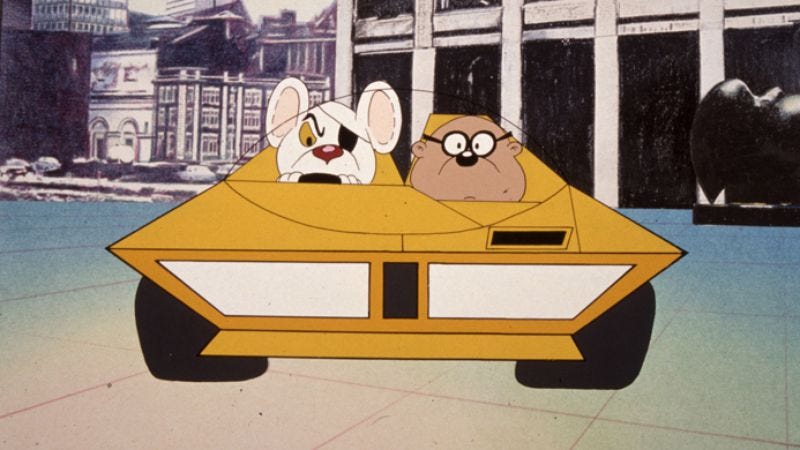 The BBC is reporting the death of animator Mark Hall, co-founder of the Cosgrove Hall Films studio that created beloved '80s children's TV series like The Wind In The Willows, Chorlton And The Wheelies, and—most famously—Danger Mouse. Hall died of cancer at the age of 74.
Together with fellow producer Brian Cosgrove, Hall founded Stop Frame Productions in 1969, before that company folded and gave way to Cosgrove Hall in 1975. Their first successful cartoon was Chorlton And The Wheelies, a surreal effort about a "happiness dragon" adopted by a society of strange creatures who run about on wheels, fighting a witch who's constantly trying to make them sad. Actually, I'm not sure why I'm bothering to explain it, when you could just listen to the theme song.
In 1981, Cosgrove Hall hit upon its greatest success: Danger Mouse, a loose parody of famed British spies like James Bond and the Patrick McGoohan-starring Danger Man series, followed the adventures of the world's greatest secret agent, who just so happened to be a tiny mouse with a (superfluous) eyepatch. Together with his cowardly, bumbling assistant Penfold, Danger Mouse fought the wheezing toad supervillain Baron Silas Greenback (among others) throughout an impressive 89 episodes over 11 years, becoming one of the most successful British cartoons of all time—particularly here in America, where it remains a beloved cult favorite among those who grew up watching it on Nickelodeon. (And of course, he lives on in the adopted moniker of producer, musician, and noted fan Danger Mouse.)
Danger Mouse also produced the spinoff Count Duckula, in which the titular fame-obsessed, vegetarian vampire—the result of his nanny feeding him with ketchup instead of blood—hunted for carrots and rebelled against the gloominess of his vampire heritage, following his own wacky muse while trying not to get staked. Like Danger Mouse, the show's comedy was based in the Rocky And Bullwinkle style of satire, often directly acknowledging and commenting on its own inherent silliness. No doubt an entire generation of people who love all things "meta" have a little Danger Mouse or Count Duckula in their history.
Cosgrove Hall first tackled Kenneth Grahame's The Wind In The Willows in 1983, creating a BAFTA- and Emmy-winning feature-length, stop-motion animated film that was then transformed into a 52-episode series. (An interesting footnote: Stone Roses guitarist John Squire worked on that show, becoming part of a tradition of famed British musicians in Cosgrove Hall's employ that also included Inspiral Carpets' Craig Gill working on Andy Paddy in 2002, and Bernard Sumner working as a tracer during the early days of Joy Division.)
Notable among the dozens of other Cosgrove Hall productions over its decades of existence were Jamie And The Magic Torch, several collaborations with Discworld author Terry Pratchett, and animating the missing episodes of the Doctor Who serial The Invasion for its DVD release. The company shut down in 2009, but was reborn earlier this year as Cosgrove Hall Fitzpatrick Entertainment with fellow animator Brian Fitzpatrick, and Hall contributed to the creation of two new series, Pip! and The HeroGliffix, that are currently being shopped around.