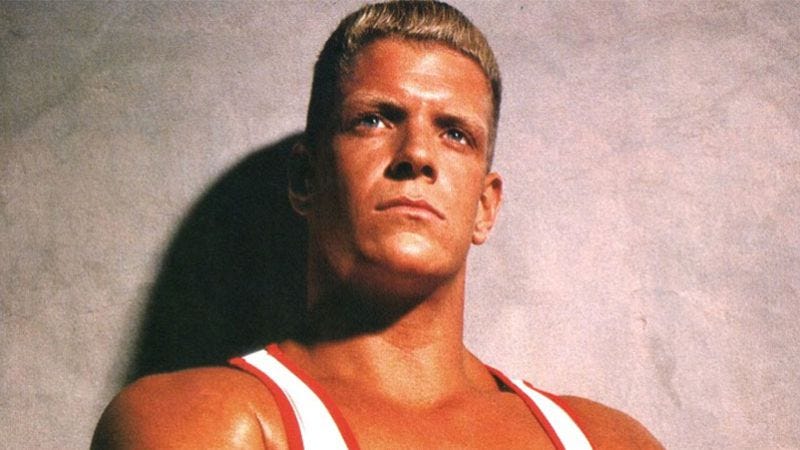 Lee Reherman, a prolific actor and TV presenter best known for his role as "Hawk" on the original '90s incarnation of the athletic competition series American Gladiators, has died. Reherman was 49; according to Variety, the cause of his death is still unknown.
A former Cornell University football star, the 6'4" Reherman got his acting start with a minor role on Columbo in 1992, following it up with a film appearance in Arnold Schwarzenegger's Last Action Hero. The next year, he gained national prominence when he joined the cast of Gladiators, utilizing his powerful physique and football skills in more than a hundred episodes of the syndicated series, delivering foam-armed beatdowns to a number of competitors—including former gridiron opponent Dean Cain, in a clip from one of the show's celebrity episodes:
After the U.S. incarnation of Gladiators ended in 1996, Reherman made his way into the wider Hollywood acting pool, appearing on dozens of TV shows and movies—including The X-Files, Leverage, Chuck, and Terriers—often in roles that relied on his intimidating presence. He also worked frequently in a hosting role, helming numerous car-based documentary series like Forza Motorsports Showdown and Hot Rod TV for Speed.
Reherman's last recorded role was on a recent episode of The CW's Jane The Virgin, delivering play-by-play commentary of the titular heroine's parenting techniques. According to a friend, his death was entirely unexpected; Reherman had apparently been feeling unwell for the last few days, and was still recovering from a hip replacement surgery that took place two months ago.