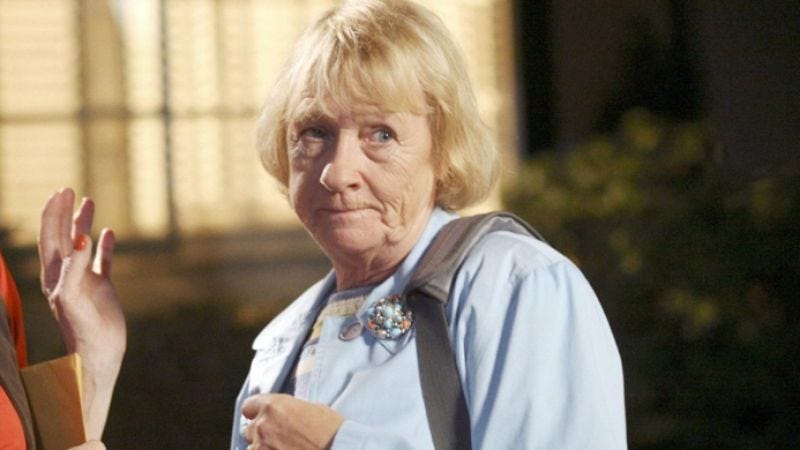 The actress Kathryn Joosten died Saturday of lung cancer, an illness that she had battled off and on since 2001. She was 72. A very late bloomer, Joosten married a psychiatrist she met while working as a nurse in Chicago and settled down to raise two sons, until her husband's alcoholism led her to divorce in 1980. She then began working in Chicago theater in her 40s, finally heading for Los Angeles in 1995 to begin her acting career in earnest. There she quickly became a familiar face on TV, with guest roles on such series as Seinfeld, Frasier, NYPD Blue, Home Improvement, Buffy The Vampire Slayer, and Murphy Brown, eventually earning two Emmys—a testament to how it's never too late to start over.
Despite being in dozens of movies and TV shows, to the point where it seemed barely a show went by in the past two decades without an appearance from Joosten, she was best known for two recurring roles: Delores Landingham on The West Wing and Karen McCluskey on Desperate Housewives. As Mrs. Landingham, she was both secretary and conscience to President Jeb Bartlett for two seasons, until [SPOILER ALERT] her character's death in an accident involving the first new car she'd ever owned, a senseless tragedy that inspired Bartlett to find the stones to run for re-election.
She had a far longer run on Desperate Housewives, where creator Marc Cherry signed her up to play Karen McCluskey, the neighborhood biddy with Orson Bean in her bed and her first husband's corpse in the freezer, with the understanding that she would make it to the series finale. Cherry kept his word, and after she appeared in all eight seasons—and earning two Emmy Awards for Best Outstanding Guest Actress in a Comedy Series—it was Karen's death that closed out the series when it ended, just weeks before Joosten died herself. Like Joosten, her character died of lung cancer, a nod to Joosten's real-life illness and her role as national spokesperson for Pfizer's Lung Cancer Profiles campaign.