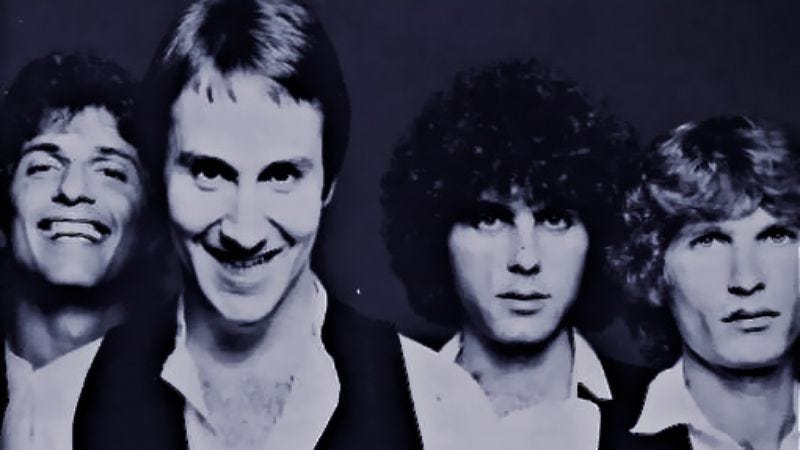 Doug Fieger died yesterday of cancer at the age of 57. Fieger, best-known as the lead singer and guitarist of one-hit wonders The Knack, was actually a veteran rocker prior to the surprise success of "My Sharona" and The Knack's subsequent flame-out. Fieger began playing music professionally in the late '60s, and helmed the Detroit country-rock band Sky, which released two major label albums before breaking up in 1972. Fieger migrated to Los Angeles, and tried his hand at different styles of music with different collaborators before going back to basics with the power-pop/garage-rock quartet The Knack, who quickly became the hottest club act on the Sunset Strip, routinely drawing crowds packed with rock legends eager to check out the new competition.
The band's 1979 debut album Get The Knack initially benefitted from a hard push by their label Capitol Records, and the infectious hit single "My Sharona" was hailed as a welcome return to old-fashioned, hooky rock 'n' roll at a time when disco, punk and heavy metal were alienating a lot of old guard rock fans. But the ubiquity of "My Sharona" and the relentlessness of Capitol's promotional push—coupled with the band's critic-defying decision not to grant interviews—fomented a vicious backlash, and by the time The Knack's second album came along, the press was in full attack mode, and the bandmembers were feuding. (That is, when they weren't blasted on drugs or getting snagged in irresolvable love triangles.) Nevertheless, 1980's …But The Little Girls Understand went gold; it was The Knack's 1981 third album Road Trip that tanked, consigning the band to "Where Are They Now?" status, until the use of "My Sharona" in the movie Reality Bites prompted a revival of interest and an inevitable reunion tour.
Those with Netflix accounts are encouraged to watch the documentary Getting The Knack—available to Watch Instantly—which recounts the strange, sad story of a band that flamed out quickly and spectacularly. At the least, it's a great way to honor Fieger, a talented performer who bought his own hype, paid the price for his hubris, and came back chastened but still eager to entertain.