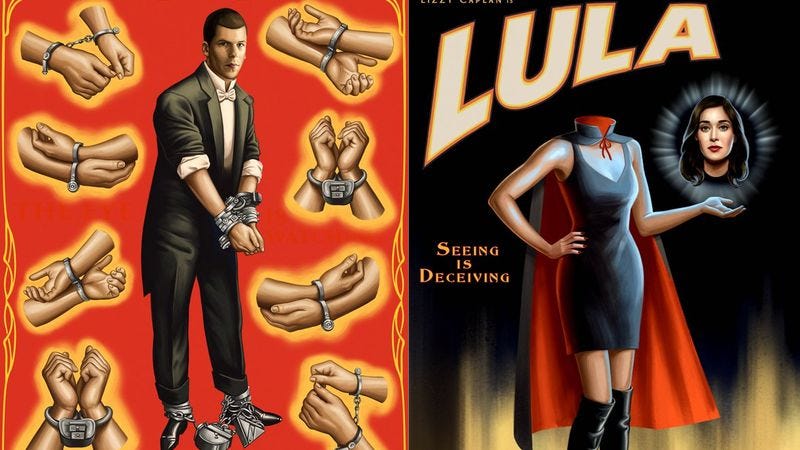 Despite middling reviews, the magic-themed heist film Now You See Me proved a surprise hit for Lionsgate back in 2013, and now the company is releasing a sequel this summer with returning stars Jesse Eisenberg, Dave Franco, and Woody Harrelson, joined by Lizzy Caplan and Daniel Radcliffe. In addition to the previously unveiled trailer, there have already been a flurry of promotional posters, both for the film and its cast, released online. These have been fairly standard, nothing to make film fans stop and take notice. But a quartet of new character posters for Now You See Me 2 are worth mentioning, because they're beautifully painted in the style of vintage magic show advertisements. The artist seems to have drawn inspiration from old Harry Houdini posters, as demonstrated by this side-by-side comparison, in which Eisenberg's hairless, glowing forearms are shown in a variety of locking mechanisms.
Harrelson, Caplan, and Franco have been similarly honored. Caplan is depicted as "The Self Decapitator," standing coolly by as her head floats at about shoulder level next to her body. Franco's Jack Wilder is "The Sleight," a master of card tricks whose signature move seems to be throwing playing cards, including one with a skull on it, at his bewildered spectators. And Harrelson is "The Hypnotist," whose intense portrait is augmented with pictures of glowing eyes.
All four images are available below.