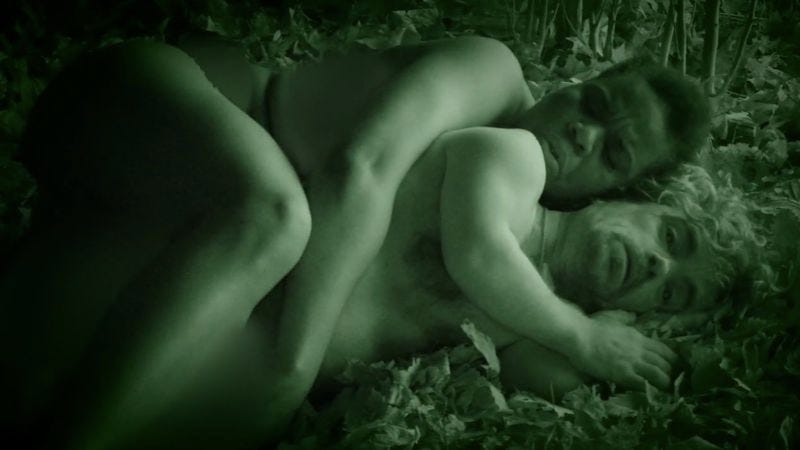 Mathematically certified Game Of Thrones leading man Peter Dinklage threw himself into a number of roles in his SNL hosting gig last night, playing everything from a culinarily adventurous restaurant patron, to a beleaguered reality show host, to (rather cringe-worthily) Winnie the Pooh. But for all the courage he showed as a host, perhaps no part was so daunting as playing himself in Naked And Afraid: Celebrity Edition, alongside SNL regular and Ghostbuster Leslie Jones.

After showing up in a makeshift dragon costume and playfully swishing at Dinklage with her tail in the host's Game Of Thrones-themed monologue, Jones starred as herself in SNL's take on the brambles-in-unpleasant-places reality series. While Dinklage copes with cold, hunger, and the fact that Jones keeps calling him "Tyrion," his co-star proves her mettle in the nude survival arena thanks to a single bottle of Frank's RedHot, superior and inappropriate spooning skills, and a constitutional inability to give a fuck. She does try to eat Dinklage at one point, but, to be fair, vegetarian Dinklage has only been bringing home leaves to eat.
The premise of the sketch must have been irresistible, with the 6-foot Jones transferring her usual lip-smacking pursuit of Weekend Update co-anchor Colin Jost to the strikingly fit and accomplished (and, yes, much shorter) Dinklage. But both actors overcome the easy visual gag to turn in deeply funny performances as the oddest possible couple to launch the fictional spinoff series—Dinklage even confesses at the end that he's going to miss his handsy co-star. As for Jones, she gets dinged on her survival rating for smuggling some weed into the wilderness, but emerges from the ordeal unscathed and unbowed—and with her Game Of Thrones fantasies at least partially fulfilled.