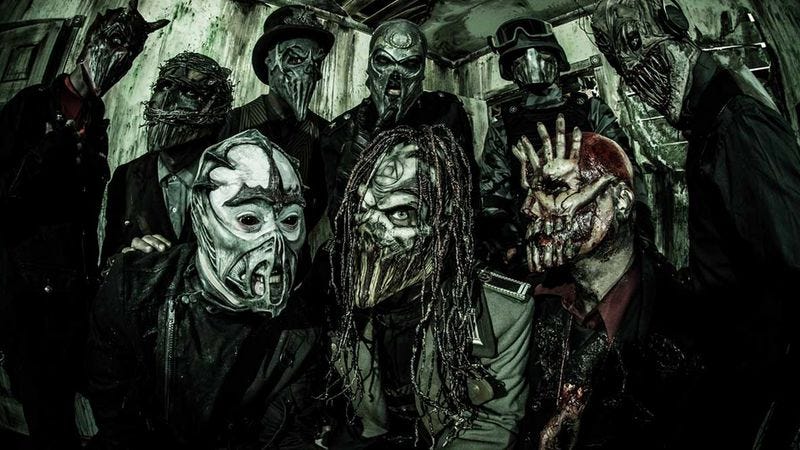 Despite the fact that Mushroomhead is from Cleveland—a city that was never even close to becoming part of the Confederacy—the masked avant-metal band has been flying the Confederate flag as part its merch for a bit. Lately, though, the group has been forced to defend its use of the flag, and fortunately (or unfortunately, if you're Mushroomhead, but a lot of things are unfortunate if you're Mushroomhead) it's been doing a really bad job of it. In a post on its Facebook page, Mushroomhead argues that it can use the flag because it's a band of rebels, saying:
Mushroomhead Masks & Memorabilia …..A rebel is a person who stands up for their own personal opinions despite what…

Posted by MUSHROOMHEAD OFFICIAL on Monday, 3 August 2015
That fortune-cookie wisdom certainly paints the flag in a rosy glow, associating it with the word "rebel" instead of the actual pro-slavery "rebels" who fought under it. The group is essentially arguing that it's the James Dean of metal bands named after dicks, turning up its collective collar and poo-pooing society's constraints. They're not going to cut their hair, man, and that flag will let you know it. Sure, it'll also let you know that they're racists who don't understand how symbolism, oppression, and racial equality work, but anyone who has ever paid any attention to Mushroomhead could probably already have told you that.
The group plays Dirt Fest this weekend in Birch Run, Michigan, where it'll be joined by other similarly progressive acts Down, Hellyeah, Pop Evil, Coal Chamber, Fear Factory, and Taproot.