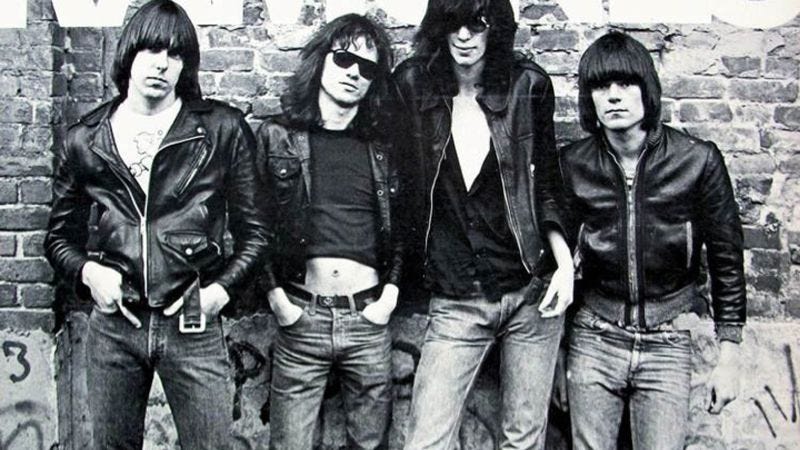 According to the always-reliable manager of the Ramones estate, Martin Scorsese is attached to direct a film about the Ramones, the band behind so many of Scorsese's favorite songs—"Gimme Shelter," "Jumpin' Jack Flash," "Gimme Shelter," etc. The news was casually announced at the annual Johnny Ramone tribute at Hollywood Forever Cemetery, where the presence of so many departed spirits watching reproachfully from beyond surely forbids lying or exaggeration, from all who fear the wrathful ghost of Mel Blanc.
It was there that—alongside a concert from Rob Zombie, Billy Idol, Duff McKagan, Steve Jones, and Fred Armisen performing Ramones songs, plus a special screening of Zombie's The Devil's Rejects for some reason—Ramones estate co-manager Jeff Jampol previewed even more fitting salutes to the band's looming 40th anniversary, including a new documentary, a theatrical play, a book, and "remastered apparel." And, of course, a movie directed by one of the most acclaimed directors in American film history.
Here it is perhaps worth noting that Scorsese himself has yet to make any mention of the project, or ever hint at any specific interest in the Ramones. (Most sources reporting this seem content to point out that Scorsese made movies in 1970s New York and that he likes rock 'n' roll as evidence of their obvious spiritual connection.) There's also the fact that Scorsese is quite busy with numerous other things at the moment: Silence, with Liam Neeson; HBO shows based on Shutter Island and the side of the 1970s music industry that the Ramones actually helped to kill; and both his long-promised Frank Sinatra biopic and The Irishman, one last gangster movie with Robert De Niro, Joe Pesci, and possibly Al Pacino. Scorsese has also suggested that he has only "a couple more" films left in him before he's ready to retire—spoken like a man who's anxious to dive into the sweaty, seedy story of a raucous punk rock institution.
Nevertheless, Jeff Jampol swears that at least one of those films will be a Ramones biopic, that Scorsese is attached, and that it will be ready in time for 2016, to go with all those remastered T-shirts. Though it hedges on that timetable, The Wrap backs him up, saying Scorsese is planning to direct and citing a "source close to the production" (possibly named "Hef Hampol").
It is also worth noting that Jeff Jampol is the same estate manager who, in 2012, waxed rhapsodically about bringing Jim Morrison and Jimi Hendrix back as holograms that would "be able to walk right up to you, look you in the eye, sing right at you, and then turn around and walk away." In other words, he has a lot of plans that are obviously going to happen, just as he says they are.