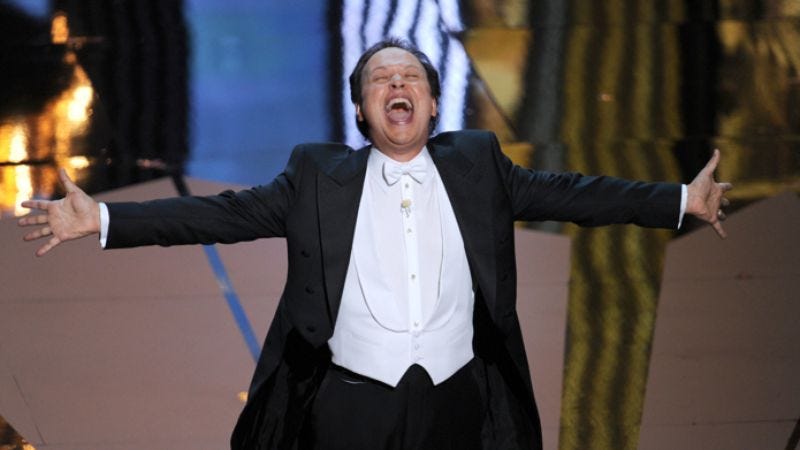 Chastened by those recent experiments with virtual reality, holograms, and trophies in pill form, this year's Oscars was a "return to Hollywood glamour," as everyone and especially Tim Gunn kept saying. No more robots and post-apocalyptic desert gangs roaming the theater looking for fuel—this was an old-fashioned night for old-fashioned movie stars, from the cigarette girls stalking the aisles with complimentary bottles of amyl nitrite, to the corpses of Gloria Swanson and Jimmy Stewart that they dug up and used as seat-fillers.
In keeping with the many tributes paid to cinema's yesteryear by Best Picture nominees The Artist and Hugo, everyone proudly came out as thoroughly in favor of the movies, forswearing the Oscar ceremonies of the last couple of years that operated under themes like "Night Of 1,000 Depths Of Shame" and  "Movies Are A Dream We All Share [Read Really Sarcastically]," ensuring that every presenter and winner said something nice about movies for once, and having Adam Sandler explain how movies are about exploring the profound truths of human existence—the dark fart of the soul, in other words. The ceremony even paused for a few minutes to watch some movies from Hollywood's Golden Age like Forrest Gump, Apollo 13, and even some that Tom Hanks was not in, just to remind us that movies are a thing that you can still pay money to watch, so please go do that. Because sometimes they'll really speak to you, the way the Stockholm syndrome themes of Overboard move Reese Witherspoon.
Yes, other than hiring Kid606 to handle sound and add some cool bitcrusher filters to all the microphones, this year's Oscars yearned wholeheartedly for a bygone era, way back when the movies seemed truly magical and Billy Crystal's Sammy Davis Jr. impression had even the slightest justification for being there. Not that there weren't a few other sops to the future: Cirque Du Soleil improved classic cinema for modern sensibilities by adding a bunch of shit whipping at the audience. The Bridesmaids cast proved once more that today's women are just as capable of making dick jokes before introducing films about racism and tsunamis. And both the Christopher Guest ensemble piece about test screenings and the intentionally fumbling co-presentation by Will Ferrell and Zach Galifianakis came drenched in irony—though it was nothing compared to Robert Downey Jr. and Gwyneth Paltrow, whose banter about Downey making a documentary while presenting the documentary award was a brilliant commentary on the awfulness of awards show banter and Gwyneth Paltrow. Ditto Cameron Diaz and Jennifer Lopez, who offered an astute, post-feminist appraisal of their careers by simply presenting with their asses.
To counterbalance all of that modernism, the actual awards tucked a warm afghan around the swollen ankles of the evening, summed up nicely by Meryl Streep's Best Actress win for The Iron Lady counting as the sole "surprise"—other than the part where Angelina Jolie's right leg finally became self-aware, leading to the inevitable hour when it will see humanity as a threat and trigger Judgment Day. (First against the wall: Descendants winner and Community dean Jim Rash, whose protestation that he was laughing with the leg and not at the leg will be his final breath.) Yes, once more the proceedings were otherwise comfortingly predictable—from all of The Artist's big wins, to the Academy's constant reminders that it knows Martin Scorsese also made a movie this year, to the halfhearted discussion over Jennifer Lopez's possible half-nipple-slip, to Sacha Baron Cohen's perfunctory prank on a perfunctory Ryan Seacrest. It was all as safely rote as Crystal's opening movie montage and medley, and every bit as worthy of revisiting.
So as with every year, consider this an open forum to do just that, and talk about all the stuff you liked besides Emma Stone and Ben Stiller's subtle promotion of The Hobbit, or the part where Uggie the Dog tore off Christopher Plummer's face and used it for a game of tug-of-war with James Earl Jones, or when an angry and bewildered Nick Nolte pulled out a shotgun and opened fire on the Muppets, or etc. You can also check out our live blog replay in case you missed all of the as-they-happened exclamations of "Is that Sheila E.?" and "Why are they showing Sheila E. again?" and "Hey Sheila E., this is boring—play 'The Glamorous Life'!" And of course, our own Noel Murray and Tasha Robinson held a Crosstalk about the ceremony with actual insights and factual statements about stuff that really happened that you can read. And then we'll finally be done with the Oscars, at least for a little while.