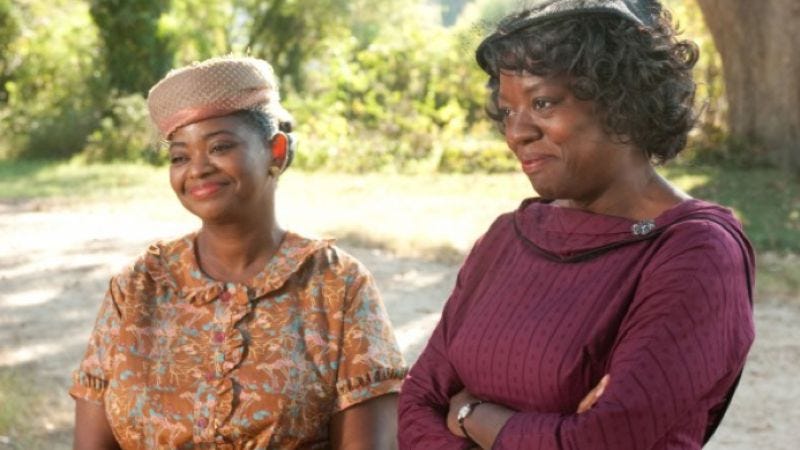 Even on a holiday weekend, America fulfilled its civic duty by keeping The Help in its No. 1 spot and promoting the healing, at long last, of the scars of civil rights by hissing at Bryce Dallas Howard. By now even your grandmother has seen this movie, and she hasn't been to a theater since Steel Magnolias and she still calls movies "pictures." And by the way, she loved it—though really, she was just glad that The Help wasn't one of those 3-D movies, because she doesn't like the idea of lasers being pointed in her eye, because that's what she heard they do now. Anyway, The Help: Officially the "sleeper hit" of the summer, if one can call a film with that sort of relentless advertising campaign a "sleeper."
There are some caveats, of course. For one thing, The Help reigned over one of the lowest-attended Labor Day weekends of the past 15 years, and as always, it didn't hurt that it was surrounded by the usual studio flotsam that always comes bobbing up. Of the two long-delayed films that finally saw release on the weekend where expectations take a holiday, the Helen Mirren political thriller The Debt fared the best—like last year's The American, benefiting from the mere suggestion of an adult-minded story after a summer of junk food, and bringing in $12.6 million to land at second place. Meanwhile, The Weinstein Company officially ran out of places to shove Apollo 18, so they figured they may as well drop it in theaters, but even with the popular "found footage" gimmick and the allure of a condemnation from NASA, it still only managed $10.7 million.
And despite a title and trailer that promised a straightforward, no-frills delivery of boobs, 3-D sharks, and boobs being eaten by 3-D sharks, Shark Night 3-D pulled in only around $10.6 million, failing to match even the modest numbers of the very similar Piranha 3-D from 2010. (In fact, had it only called itself Very Similar To Piranha 3-D From 2010, it probably could have improved its prospects.)  Finally, the Year Of Jason Sudeikis ended with the whimper of A Good Old Fashioned Orgy, which pulled in around $153,000 in a limited release of 143 theaters—half the weekend take of the still-thriving Bridesmaids, even, whose Kristen Wiig is no doubt giving Sudeikis a patronizing little pat on the shoulder right now. "I know what might lift your spirits," she says. "Have you seen The Help yet?"
For more detailed numbers, visit Box Office Mojo.