We're as exhausted by all these latest twists in the hat-based antics of Kanye West as everybody else by this point, so let's keep this short and sweet: West announced today that his much-mentioned album Yandhi—which missed the September 29 release date he's been hyping for it for weeks—has now been officially delayed. The album will now come out on November 23, Black Friday.
West said he delayed the album because recent time in Chicago has him thinking about returning to his "roots," leading him to want to record it in Africa, instead. He also said a lot of things about how the album will be great, and about his "superhero rehabilitation," and a whole ton of shit about his hat, which, fine, cool, we're happy you're proud of your headwear, guy. Thanks for the release date info.
Meanwhile, here's the only other Kanye story our brains are capable of processing at the moment: An anecdote told by Kim Kardashian West on a recent episode of Keeping Up With The Kardashians, in which she and West got into a fight because she wouldn't go get him the right color of Band-Aid, with her adult husband complaining that she doesn't treat him with the same level of attention and care that she gives to their two-year-old child, Saint. Sounds about right.
[via XXL]
G/O Media may get a commission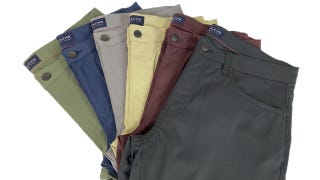 JACHS NY Fall Stretch Tech Pants