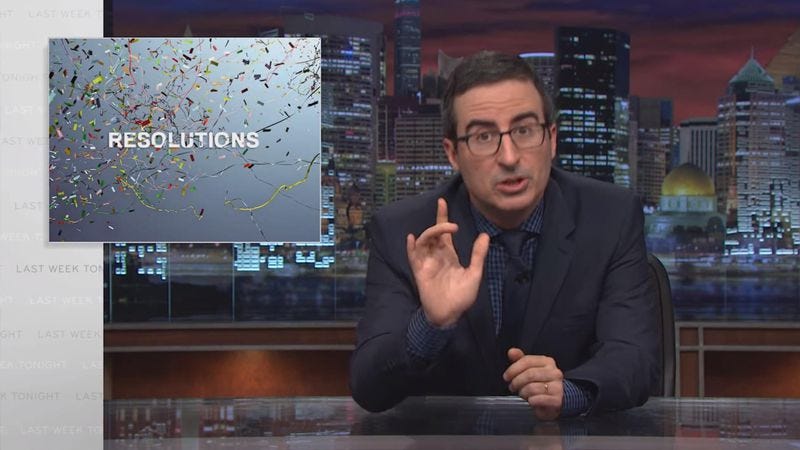 It's disheartening but true: New Year's resolutions are bullshit. Well-meaning bullshit perhaps, but bullshit nevertheless. Last Week Tonight host John Oliver understands this, and he sympathizes. In a new web-exclusive video, Oliver offers solace to all those who went right back to smoking, drinking, and not using their Crock-Pots sometime around noon on January 2. Human beings are stubborn creatures of habit, so it's highly unlikely that a mere flip of the calendar will bring about any meaningful, lasting change. "The key thing with resolutions," Oliver thus explains, "is not how to keep them. It's how to revise them once you've failed." It's all about managing expectations. Waking up late for work will raise one's heart rate, the comedian suggests, so it should count as exercise. And that neglected Crock-Pot could make a pretty sweet mouse hot tub.
If scaling down one's expectations doesn't work, how about scaling them way up so that they're impossible to achieve? That way, the inevitable failure is virtually guilt-free. Problem solved. "Deep down, we all know," says Oliver, "that the key to successful resolution is not hard work and dedication. It's managing disappointment, and that's it."
Last Week Tonight With John Oliver returns to HBO with new episodes on February 14, just in time for the host to debunk Valentine's Day as it's happening.
[via Laughing Squid]