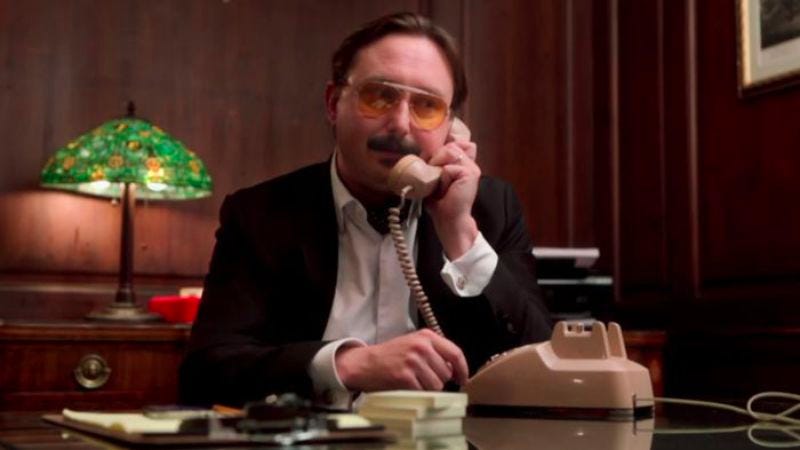 Beloved Best Show host Tom Scharpling has become a go-to video director for some of our favorite bands—Wild Flag, Titus Andronicus, The New Pornographers, Ted Leo—but now he's partnered with another A.V. Club favorite, John Hodgman, in an awesome trailer for the third and final book in Hodgman's complete world knowledge trilogy, That Is All. (Our Scott Tobias did an epic interview with Hodgman for the book, so look for that soon.)
The star-studded video, done for Funny Or Die, portrays the nebbish author as a reclusive, "deranged millionaire" who's being forced by his publisher to print more than one copy of the book and really "take it to the people," as Hodgman notes with noticeable disgust. His friend, "Internet superstar and feral mountain man" Jonathan Coulton agrees to help, so the two plan to meet in the ferret-skeleton room of Hodgman's manor (not the map room, polo room, or bacci courts).
Along the way he encounters Justin Long, Dick Cavett, ?uestlove, Ted Leo, Brooke Shields, Nas, Samantha Bee, Jack McBrayer, Paul Rudd, Fred Armisen, Jason Jones, Scott Adsit, Paul Feig, John Lutz, Vernon Reid, Kristen Schaal, and more—and even Jon Hamm, though only his voice. (The only person missing is Paul F. Tompkins.) Oh, and They Might Be Giants provide the soundtrack to bring fans to full release for their geekgasm. Behold!
THAT IS ALL from John Hodgman