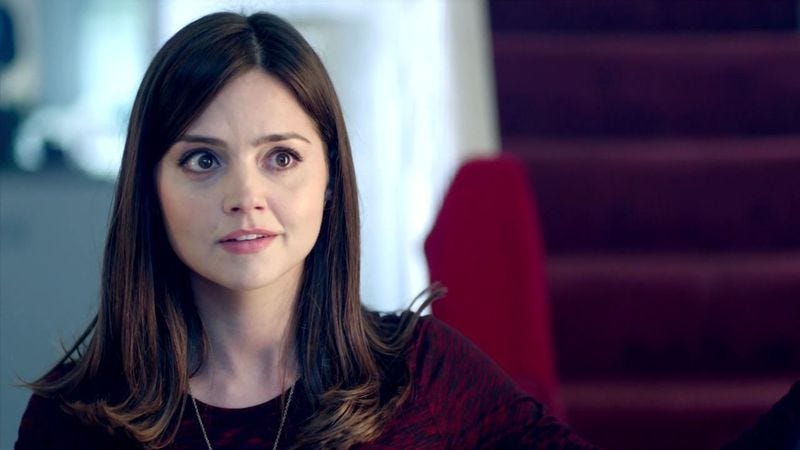 The Doctor is going to have to find a replacement for Clara Oswald. According to the BBC, actress Jenna Coleman is departing Doctor Who sometime this season, before the Christmas special. Coleman joined the show in 2012, accompanying the 11th doctor (Matt Smith) as he unraveled Oswald's deep connection to his various incarnations. She was there when he regenerated from a spritely young chap into Peter Capaldi's gleefully morose 12th Doctor, who is Scottish and can complain about things.
Coleman has already lined up her next role, playing Queen Victoria in an upcoming ITV series. Neither ITV nor BBC One have made an official announcement regarding Coleman's departure. Presumably there won't be room for a crossover, but it's not like the Gallifreyan hasn't upset Queen Victoria's court before.
In an interview with Radio Times, Coleman acknowledged the temporary nature of a companion gig, saying, "You're in Doctor Who knowing it will never last. It's constantly regenerating, so you want to make your time count and enjoy the adventure for the fleeting time you're here." There had been some back and forth during last season, as Coleman reportedly wanted off of the show, and then wanted back in at the last minute. According to showrunner Steven Moffat, her fate has always been in her own hands, and was glad when she returned. "Frankly, I didn't want to lose her," Moffat said. "She's an amazing actress, and she never stops working to make Clara better. I was very happy to go the extra mile to make sure we could keep her."
There is no word on who will join Who as the Doctor's next companion, but the Time Lord has been known to roll solo for an episode or two until he can coax another British stowaway into his Police Box. Maisie Williams is appearing on the upcoming season as a character who seemingly squares off against the Doctor, but she's already got a regular gig on HBO's Game Of Thrones, and we all know what a stable, long-term employment opportunity that is for actors playing Starks. Mrs. Doctor, a.k.a. River Song, is appearing in the Christmas special, but expect Alex Kingston's reprisal to be a one-off, unless Moffat decides that Doctor Who should be the serial adventures of an interdimensional, bickering married couple. Whoever is cast in the new role, expect them to continue in the proud tradition of being compared unfavorably to their predecessor.
Join Jenna Coleman for her victory lap when Doctor Who returns this Saturday, September 19.