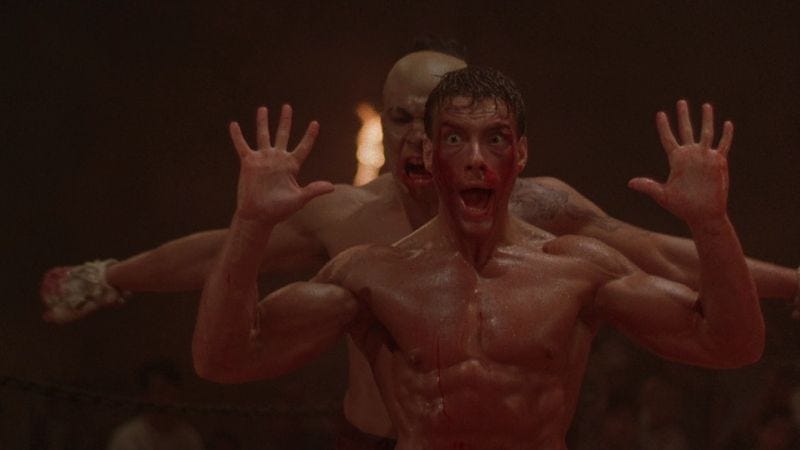 Plans have been in place for some time to remake Kickboxer, along with the Jean-Claude Van Damme vehicles Bloodsport and Timecop. But like a pair of speeding 18-wheel semis without somebody perched between them, or a VHS jacket of Kickboxer 2, a certain je ne sais quoi was missing. According to The Hollywood Reporter, producers are filling the Jean-Claude-sized hole in the project with Van Damme himself.
In what must be fantastic news for fans of Van Damme's impromptu full splits and strange line readings, the Muscles from Brussels has signed on to replace Ong-Bak's Tony Jaa in the film. While he played impulsive fighter Kurt Sloan in the 1989 original, this time Van Damme is stepping into the role of Sloan's teacher, Master Chow. He is joined by a new generation of fighting actors, including WWE's Dave Bautista (Guardians of the Galaxy) , UFC fighter Georges St-Pierre (Captain America: The Winter Soldier), and stuntman Alain Moussi (X-Men: Days of Future Past), who plays Sloan in the remake.
No word has been given if his character will be renamed to something less generically Asian than Master Chow, but considering the thickly accented Belgian actor has played characters with names like Jack Quinn, Sam Gillen, Ben Archer, and Kurt Sloan, there's certainly a precedent for Van Damme assuming incongruous character names.
Kickboxer starts shooting this week in New Orleans, and will also be shot on location in Thailand.