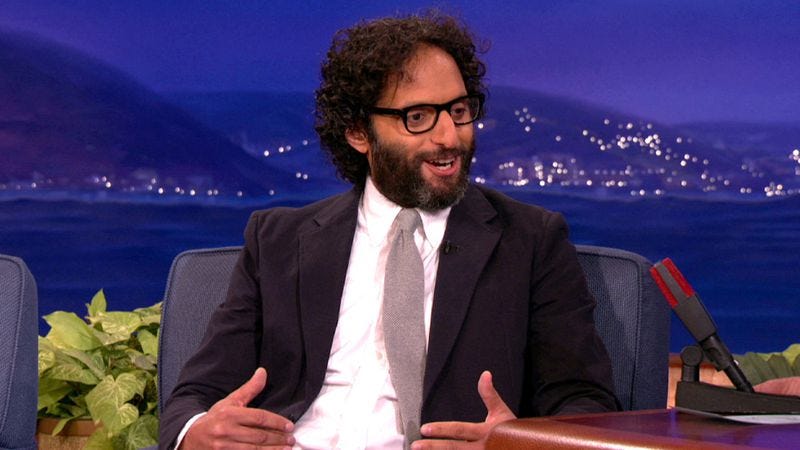 When we first reported on the development of a Battling Boy movie, details were sparse. All we knew was that Patrick Osbourne, a Disney employee who had directed the company's Academy Award-winning animated short Feast, had been tapped to helm the project. Left unsaid was who would write it, what format the film would be in, who would star, and so on. In short, we were left with the question, "How will this get made?" At least part of the puzzle is solved now, as Deadline reports writer-actor Jason Mantzoukas has been hired to pen the adaptation of the graphic novel.
As well as acting in a variety of comedy series—like his recurring role on The League and appearances on Kroll Show, Parks And Recreation, Comedy Bang! Bang!, and Review—Mantzoukas co-hosts the podcast How Did This Get Made?, meaning he probably has at least one job you want, if not all of them. Weirdly, in addition to writing episodes of Childrens Hospital and The League, he also wrote the Ice Cube-Kevin Hart vehicle Ride Along, something that his HDTGM co-host Paul Scheer admitted he didn't even know until after the film had come out.
Battling Boy tells the story of Arcopolis, a city where monsters are real and drag children to the underworld. "Into this world come two young protagonists—one a 12-year-old demi-god, the other the daughter of a highflying hero who has tragically died in battle—as their paths cross as they battle to save the city." A.V. Club comics contributor Oliver Sava called it one of the best books of the year, which is one of those statements that makes the rest of us comics readers unfamiliar with it mumble uncomfortably about how we're pretty sure we checked it out at some point. The film is being fast-tracked, and will apparently be a live-action/animation hybrid, despite recent use of the technique in The Smurfs, The Chipmunks, and the Holy Grail of live-action/animation hybrids, Ted 2.