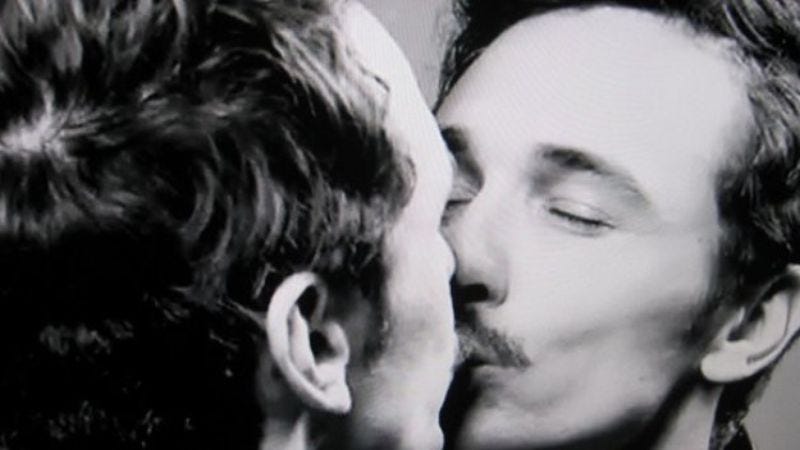 Presented as part of the permanent gallery installation that is our waking world, life's curator James Franco gives you this parody video of himself lip-synching to Justin Bieber's "Boyfriend." It is a parody intended, as always, to expose the manufactured, self-parodying artifice of art, as it is practiced and defined by James Franco.
The video—shot in Franco's rare, non-blogging-prize-nominated-blogging-and-just-sitting-around-thinking-about-James-Dean downtime during the filming of Harmony Korine's Spring Breakers—features Franco donning the recognizable "floppy wig and baseball cap" signifiers associated with the "Justin Bieber" persona at its most iconic and therefore vulnerable to recontextualizing through mythologizing. It also features Franco's Spring Breakers co-star and rumored girlfriend Ashley Benson, who humps both floor and air to express the frustrated sexualization inherent in pop music. And there is a transvestite with anal beads, because James Franco likes transvestites and anal beads.
That Franco once characterized Benson and their fellow Spring Breakers star Selena Gomez as "Bieber's girls" ("And I wouldn't dare tangle with the Biebs. I heard he wants to kick my ass. Yikes!") only adds yet more layers to the viewer's interpretation, echoing the song's themes of possession and identity. It asks, what if James Franco actually was your boyfriend—in the sense that he is Ashley Benson's boyfriend, in the sense that he is also Justin Bieber, Selena Gomez's occasional boyfriend, and in the sense that the song is addressed universally, as a plea to be our boyfriend?
Can these identities coexist, Franco's work asks, and is the fact that they are each valid answers to the hypothesis, "If I was your boyfriend…"—the fact that both the song's protagonist and James Franco would like to "be everything you want"—is this yet more Franco-supplied evidence that the self is too fluid to ever truly be knowable? How can this then be extrapolated to explore the illusion of "knowing" a celebrity, besides using Franco's usual blurry, "irony porn" filter on his camera?
"Part of it is, 'Wow, I guess I just tapped into what they want!' You know, this pop, surface-level kind of thing, but done in a way where you feel like something else is going on," Franco himself said, while commenting on the inevitable attention this video would receive, as well as on the recurring theme of every single thing he does, ever. Franco added, "Or the fact that it's me doing it is like … fascinating to people, I guess…," winking to the obvious that the reasoning behind all James Franco's art pieces is the fact that James Franco doing it is, like, fascinating to James Franco, while also doing so as part of his own ongoing lip-synch parody of James Franco.
Franco also says, "Swaggy" a lot, a term both fraught with implicit contextual meaning and irritatingly meaningless. Like everything.
[via The Huffington Post]