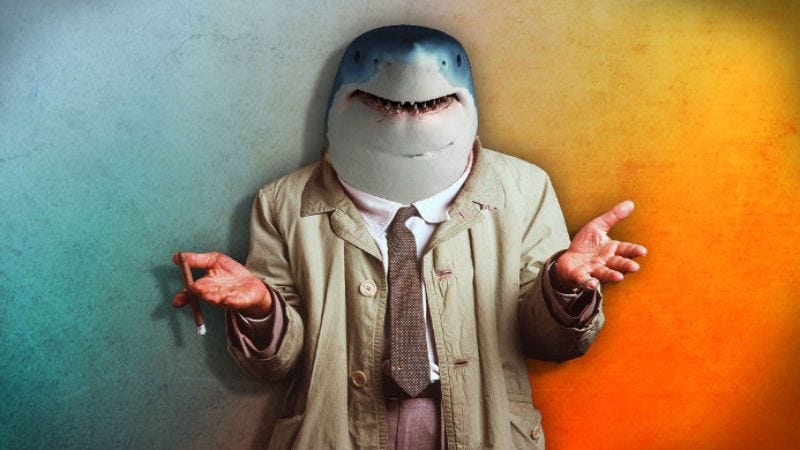 Sharks are riding high, pop-culturally speaking. Sharknado, Shark Week, millions of lame jokes about Shark Week: It's safe to say the residents of Phylum Cordata haven't had a year this good since that time they got hold of Samuel L. Jackson.
But are there enough shark-related things happening on the Internet right now? Funny Or Die clearly doesn't think so. And so, they've dared to dream up a hybrid of the world's most deadly predator and its most effectively garrulous detective. That's right, folks, it's Sharklumbo.
The randomness of the premise, combining a deadly sea creature with beloved fictional detective Columbo, is intentionally designed to mock the mash-up culture and so-bad-it's-good attitude that powers the Internet Shark Hype Machine. That makes Sharklumbo a kind of parody of Sharknado 2, which was already kind of a parody of Sharknado, which was an intentionally silly movie to begin with, sending us way down the parodic rabbit hole. But it's also a vehicle for Kevin Pollak's legitimately pretty great Peter Falk impression, and, while the video really only has one joke—which we won't spoil here—it's a beautifully stupid one that deserves to be seen.
SHARKLUMBO with Gina Gershon and Kevin Pollak from Funny Or Die