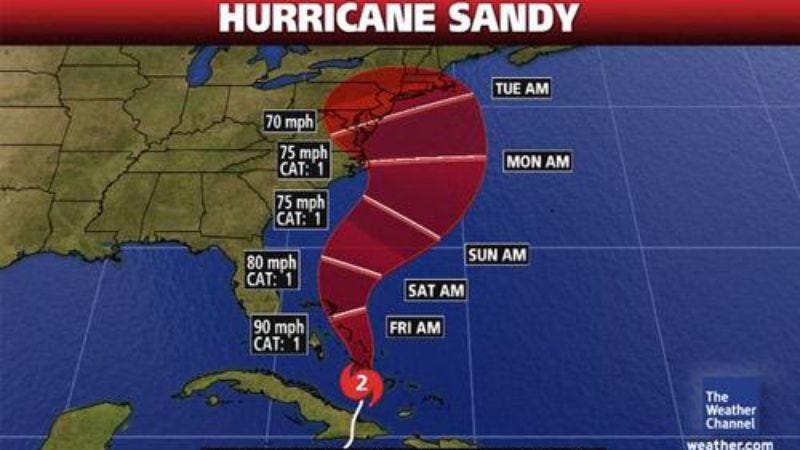 As Hurricane Sandy prepares to wreak more havoc on the East Coast, potentially making it difficult to post goofy Olivia Newton-John memes to Facebook, lots and lots of entertainers have joined Louis C.K. in canceling or postponing or making drastic changes to avoid competing with nature's freak show. Here's a list of the things we know to have been affected so far:
- CBS and The CW have made the unusual move of suspending all original episodes from tonight's lineup, pushing How I Met Your Mother, 2 Broke Girls, Hawaii Five-0, Partners, Mike & Molly, Gossip Girl, and 90210 back by one week. On the bright side, those who are riding out the hurricane can always fall back on acting out Mike & Molly episodes to keep spirits up.
- The Daily Show and The Colbert Report have called off their scheduled new episodes for tonight, with the status of tomorrow and the rest of the week still to be determined.
- Despite vowing just yesterday that he weren't a-scared of no Frankenstorm, Jimmy Kimmel has canceled the first of his scheduled tapings at the Brooklyn Academy of Music, with the show saying it hopes to begin its "Brooklyn Week" tomorrow night. (Weather and the continued existence of Brooklyn permitting.)
- Both David Letterman and Jimmy Fallon taped their shows without studio audiences today, with every punchline answered by the eerie stillness and far-off howling of a merciless wind, we guess.
- The New York premiere of Anna Karenina has been canceled, but—despite earlier reports—Harvey Weinstein will still premiere Seal Team 6: The Raid On Osama Bin Laden in Washington D.C., because no storm is gonna tell Harvey Weinstein what to do.
- All other New York-shot TV shows have stopped production, of course—everything from The Good Wife to 30 Rock to Smash. However, this is not expected to affect NYPD Blue, as this show ended seven years ago.
- Boardwalk Empire is now slightly sadder, following the destruction of the famed Atlantic City boardwalk.
- Darren Aronofky's Noah is now slightly ironic, as its massive Ark set is in danger of being damaged by the storm.
- Pitchfork has a huge round-up of New York-, Philadelphia-, and D.C.-area shows that already have been or are now canceled, including performances by The xx, Cat Power, Grimes, Ghostface Killah, Yasiin Bey, Devendra Banhart and the Swans, Ted Leo and Aimee Mann, Grouplove, Rusko, Bear In Heaven, and The Heartless Bastards, and New York's Freedom To Love Now Benefit, which was to have featured The National, They Might Be Giants, Rufus Wainwright, and more. It also adds that most, if not all, NYC-area venues have joined Broadway in closing up.
We'll update as needed. Please stay safe out there.